Living with the Somerset floods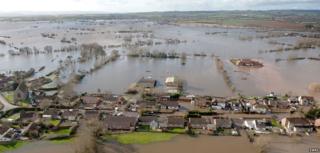 Flooding in the Somerset Levels has left farmland and businesses under water and forced residents to evacuate their homes. Here we take a look at how locals have been living with the floodwaters since the start of the year.
Aerial images show the extent of the flooding in the low-lying area, where around 65 square kilometres, are submerged. Some villages have been cut off by the surrounding water for weeks - the only way in and out for supplies and residents is by boat.
INTERACTIVE
Moorland flooding

×

Moorland landowner Sam Notaro is doing his best to fight the floodwaters by building a barrier around his recently-built home.

Moorland defences

×

Royal Marines have been drafted in to help build sandbag walls around other properties in Moorland - where dozens homes have been evacuated.

Muchelney rescue

×

For weeks, the village of Muchelney has only been accessible by boat, as roads are submerged beneath the floodwater.
Prime Minister David Cameron described the scene as "biblical" as he visited the area. We spoke to some of the local people who have been affected.
Philippa Hawks, from Burrowbridge, said the parish council had been trying to get problematic rivers addressed for almost 10 years - with little success.
"It is pretty horrific," she said. "We have never ever seen it as bad as this."
Tim Holmes, from Stathe, has been helping co-ordinate community efforts to provide sandbags for people all over Somerset.
He said people had come together to help those in need, but everyone was feeling "let down, disappointed and angry" at the government's response.
Sue Tyler-Moore, from Burrowbridge, said people had come together as "one big community" but that it was heartbreaking to see so many residents struggling to cope.