Met Police: Three diplomatic officers held over 'obscene' images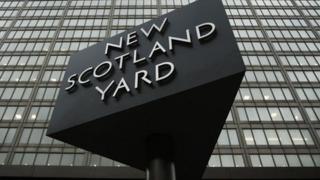 Three police officers have been arrested for allegedly exchanging "extreme" pornographic images.
The Metropolitan Police said three constables were arrested on 19 December suspected of involvement in "possession and distribution of obscene images".
The officers are from the Diplomatic Protection Group, which guards foreign embassies and controls access to New Scotland Yard and Downing Street.
One has been suspended and two have been put on "restricted duties".
The officers, who are all male, allegedly sent each other picture messages using smart phones, and the Met said the images were "extreme" but did not involve children.
After their arrest, the constables were questioned at a central London police station and search warrants were executed at their home addresses.
Restricted duties
A fourth male officer, also from the Diplomatic Protection Group, was interviewed on 8 January in connection with the investigation and placed on restricted duties.
In a statement, the Met said it had "voluntarily referred the matter" to the Independent Police Complaints Commission, which had said it should be "investigated locally" by professional standards officers.
A file has been passed to the Crown Prosecution Service (CPS) and the professional standards misconduct investigation "is on hold pending the CPS decision", the statement said.
"The misconduct investigation will examine whether the conduct allegedly took place whilst the officers were on or off duty," it added.
One of the officers was already on restricted duties due to Operation Alice, the investigation into police conduct in the "plebgate" row.
That arose from an incident in which MP Andrew Mitchell, then chief whip, was accused of calling Downing Street police officers "plebs", which he denies.
The Met said the arrests over pornographic images were not linked to Operation Alice in any way, but came about following inquiries made as a result of that investigation.