House sales 'grow at fastest rate for a decade'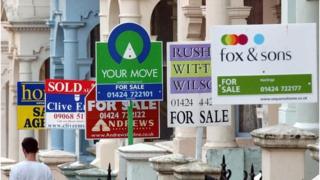 House sales across England and Wales grew at their fastest annual rate in 10 years in the six months to September 2013, a report has found.
The data comes from Lloyds Bank, which says Wales, London, the West Midlands and northern England were "property hot spots".
The bank said the number of transactions rose in every part of those regions.
Its figures were compiled using data from the Land Registry.
The bank's report found there were 396,756 house sales in the six months to September last year, marking an increase of more than one fifth - the highest rise in 10 years.
Marc Page, mortgages director at Lloyds Bank, said: "Low interest rates, improvements in consumer confidence and Government schemes, such as Help to Buy, all appear to have contributed to the rise in home sales."
The east London borough of Newham saw the largest year-on-year increase in home sales, with a 62% rise in the six months to September, when compared with the same period a year earlier.
And Crowborough in East Sussex saw the biggest drop in home sales over the same period, with a 10% fall in transactions.
However, the number of homes sold last year was still 40% below the number of transactions at the peak of the housing boom in 2006.
In Scotland, a separate report from the Registers of Scotland this week found that the number of properties sold increased by 26.1% during October to December last year when compared with the same time period in 2012.
Similarly in Northern Ireland recently published figures from the University of Ulster found that house sales were at their highest point since 2007.