Give women what they want on sport, says minister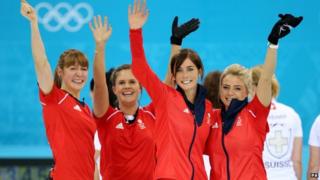 Women should be asked what they want when it comes to sport, to get more taking part and to close the gender gap, Sports Minister Helen Grant says.
Women should be offered "what works for them", whether that be more traditional hockey or athletics, or ballet, gym and cheerleading, she told the Telegraph.
Mrs Grant also urged broadcasters to show more women's sport, saying a "behavioural change" was needed.
She added that women did not have to feel "unfeminine" when they take part.
Her comments come after Britain's women won a curling bronze to ensure Team GB will equal their best Winter Olympics medal haul.
'Balanced coverage'
Figures suggest that, despite an increase in the number of women playing sport regularly, 1.8 million more men than women take part in sport at least once a week.
Mrs Grant, whose ministerial responsibilities cover sport, tourism and equalities, told the Telegraph's Wonder Women website there had not been enough media coverage of women's sport "to close this gender gap".
She said: "I think we ultimately need a behavioural change.
"I think we need to get to the point where women's sport is looked on and regarded as equal to the men's game. When we get to that point, that's when we get the balanced coverage."
She said women needed to be offered a "good spread" of sport.
"We really need to take a step back and actually ask women what they want and give it to them," said Mrs Grant, Conservative MP for Maidstone and The Weald in Kent.
"That can be whether it's a Zumba class or a game of rounders after they've dropped the kids off. That's the approach we need to take - what works for them," she said.
"It's having a good spread on offer. For example, some girls may well not like doing very traditional hockey, tennis or athletics, others might, so for those who don't want to, how about considering maybe gym, ballet, cheerleading? It's not just schools, it's clubs, it's being innovative. Actually looking at our women and our girls and asking, 'What do they want?' "
'Not unfeminine'
She also stressed that women "don't have to feel unfeminine".
Mrs Grant said: "There are some wonderful sports which you can do and perform to a very high level, and I think those participating look absolutely radiant and very feminine, such as ballet, gymnastics, cheerleading and even rollerskating," she said.
Mrs Grant later told BBC Radio 4's Woman's Hour that the newspaper had taken her comments "out of context", but she welcomed the fact the ensuing publicity had opened up a debate on the opportunities available to women in sport.
The minister, who represented her county at a junior level in judo, said it would be "naive" to claim that all women wanted to play traditional team or individual sports, and there should be "something for everyone".
She said: "For other girls, and we must recognise this, dance, ballet and rollerboarding may be much more appealing, and if that is what our women want, we should give it to them."
'Lazy stereotypes'
Responding to Mrs Grant's comments, Labour MP Angela Eagle said: "I was really disappointed to see her saying what she said about cheerleading for women's sports.
"She's an equality minister, she's the sports minister, and she really should be championing women getting involved in sports, not repeating lazy stereotypes about women in sports feeling unfeminine."
A Sport England survey carried out between April 2012 and April 2013 suggested just 30.5% of women were participating in sport once a week, though this was up from 29% two years earlier.
And a BBC Sport survey carried out after the London Olympics found just 10% of women said the Games had inspired them to become more active.
An inquiry was later started into women's participation in sport, with the first evidence from various women's sporting organisations heard last November. Its final report and recommendations are due this year.