British soldier in 'non battle' Afghanistan death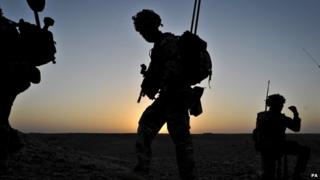 A British soldier has died as a result of "non battle-related injuries" at Camp Bastion in Afghanistan.
The Ministry of Defence (MoD) said the soldier, of 32 Engineer Regiment, died earlier in an incident which "did not involve any enemy action".
Commanding officer Lt Col Steve Davies described the soldier, who has not yet been named, as a "rising star".
He is the first British soldier to die in Afghanistan in 2014. His next of kin have been informed.
They have requested the customary 24-hour period of grace before further details are released, the MoD said.
"The tragic death of this committed and professional sapper has hit the Task Force Helmand Engineer Group hard," Lt Col Davies said.
"The corps has lost a rising star, and his squadron has lost a respected comrade and friend.
"At this most difficult time, our thoughts and prayers are with his family and loved ones."
A total of 448 British personnel have now died while serving in Afghanistan since the start of operations in October 2001.
According to the MoD, 404 of these were killed as a result of hostile action. The rest either died of illness, non-combat injuries and accidents, or have not yet been assigned a cause of death pending the outcome of an investigation.
Camp Bastion is in the southern Afghan province of Helmand, where the majority of British forces in the country operate.
All British combat troops are due to leave Afghanistan by the end of the year.