Lord Richards in Afghanistan support plea to West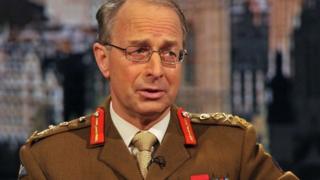 A former head of the British armed forces has appealed to western powers not to give up on Afghanistan.
Lord Richards told BBC Radio 4's Desert Island Discs he was disappointed to see "the West hesitating over its continued support".
UK combat operations in Afghanistan will end later this year.
Lord Richards warned Nato leaders it would be "on their conscience" if they failed to honour commitments they had made to the Afghan people.
A total of 448 UK forces personnel have died in Afghanistan since 2001 - the last, Sapper Adam Moralee, from 32 Engineer Regiment, died at Camp Bastion on 5 March.
About 5,200 UK armed forces personnel remain in Afghanistan - down from 9,000 at the start of 2013 - but Prime Minister David Cameron insisted in December that by the end of 2014, British troops would no longer be involved in a combat role in the country.
£300m
Cost of UK withdrawal
5,500 containers of equipment

3,345 vehicles/major equipment

50 aircraft

400 tonnes of ammunition casings

5,200 troops
MOD CROWN COPYRIGHT
The international community has committed $4bn (£2.4bn) a year for security in Afghanistan until 2017 and $4bn a year for development to underpin future security and stability.
But Lord Richards expressed particular concern that gains made by Afghan women while the international force (Isaf) was in the country could be lost.
Lord Richards, who stood down as chief of the defence staff in July, also confirmed he advised against military intervention in Syria.
"What I said (to David Cameron), and what I keep saying, is if you're going to intervene, do it properly," he said.
"If you are only to do it half-heartedly or with insufficient resources, you will aggravate things and you will certainly aggravate the humanitarian situation."
Desert Island Discs is broadcast on Radio 4 at 11:15 GMT on Sunday and available online at the programme's website.