Briton Richard Castle jailed in US over child sex offences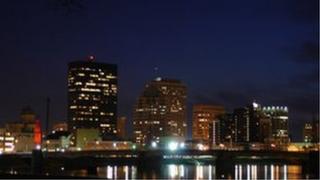 A British man has been jailed for 16 years by a US court for child sex offences.
Richard Castle, 47, of Northampton, was extradited last year over a trip he made to Ohio in June 2011.
He admitted coercing a minor, travelling with intent to engage in illicit sexual contact with a minor and transferring obscene sexual contact to the same minor.
He was sentenced by US District Judge Timothy Black in Dayton, Ohio.
Castle admitted that, posing as someone named Richard Joshua Parker, he used the internet between March 2009 and June 2011 to coerce a minor to engage in illicit sexual activity.
He flew to Dayton in June 2011 to engage in sex with the minor, staying about three weeks.
Castle was arrested by Metropolitan Police officers in January 2012 at his home in Northampton and indicted by a federal grand jury the following month.
He appealed against an extradition order but that was rejected on 6 March, 2013 and he was transferred to the US.
Castle admitted the charges on 3 October last year.