Coulson 'agreed payments that led to royal phone hacking'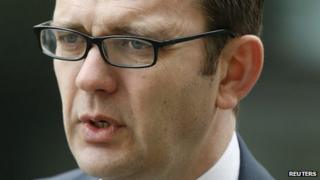 Former News of the World editor Andy Coulson agreed to payments that led to three phones in the royal household being hacked, the Old Bailey has heard.
Giving evidence, former royal editor Clive Goodman said Mr Coulson was aware private investigator Glenn Mulcaire had offered to "monitor" the phones.
Mr Coulson agreed to extra payments of £500 a week to Mulcaire, he said.
Both Mr Goodman and Mr Coulson deny conspiring to commit misconduct in public office.
Mr Coulson also denies conspiracy to hack phones.
'Two-month trial'
Mr Goodman, 56, said he had told Mr Coulson in October 2005 that Mulcaire was offering to monitor the three phones.
They belonged to Helen Asprey, an assistant to Princes William and Harry, their private secretary Jamie Lowther-Pinkerton, and press secretary to the Prince of Wales, Paddy Harverson.
During his third day in the witness box, Mr Goodman told the court he had no budget of his own and he had had to ask Mr Coulson to agree the payments.
Mr Coulson had consented to "a two-month trial" of payments from the editorial management budget, he added.
Mr Goodman was asked whether he had informed his editor about how Mulcaire would get the royal aides' voicemail access numbers.
He said there was a suggestion the information was being obtained through the private investigator's security service contacts, who he claimed were already monitoring the phones, but he could not be sure this was true.
Mr Goodman, of Addlestone, Surrey, and private investigator Mulcaire were jailed for phone hacking in January 2007.
Prince Harry's homework
Giving evidence, Mr Goodman told the court he had shown Mr Coulson the transcript of a voicemail message left by Prince Harry on Mr Lowther-Pinkerton's mobile phone in December 2005.
The message revealed Prince Harry, who was then at Sandhurst, asking his private secretary, a former Army officer, for help in writing an essay on the Iranian Embassy siege. Mr Goodman believed this was against academy rules.
Mr Goodman had made the transcript after Mulcaire alerted him to the message.
Asked by his lawyer David Spens QC why he had done so, Mr Goodman replied: "It's a good story, but you have to convince people it is a good story."
He added he had to show the transcript to Mr Coulson, and another journalist who cannot be named for legal reasons, "so they could assess just how strong this information was".
The court was also told that a micro-cassette with a recorded message from Prince William to Kate Middleton had been found at Mr Goodman's flat, which he said had been recorded by Mulcaire.
Mr Goodman told the court the message was of the prince arranging to leave the military training academy Sandhurst to meet his then girlfriend.
The jury also heard that two days after he was arrested in August 2006, he went to an internet café to download emails he had written, and received, while working at the News of the World.
'High and dry'
Some of the emails concerned stories he claims were sourced through hacking.
Mr Goodman told the court he was "frightened", adding: "I was very concerned I was going to get left high and dry for all the phone hacking at the News of the World."
The emails were given to a firm of solicitors who represented Mr Goodman in an employment case against the News of the World and were later handed over to police.
Earlier, Mr Goodman, said phone hacking at NoW was carried out on "an industrial scale".
He said the newsroom was so competitive that one senior journalist even hacked Mr Coulson's phone.
Mr Goodman told the court he had made a private deal with Mulcaire to pay him £500 a week for information obtained from hacking the phones of people close to the princes.
"I would be able to access information about meetings, events, events happening in the lives of the Prince of Wales's sons, who were then up and coming and making their way in the world," he said.
Mr Goodman and Mr Coulson are among seven defendants on trial, who all deny the charges against them.