Budget 2014: Paul Lewis Q&A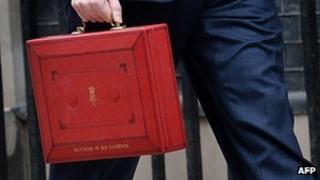 George Osborne has unveiled measures to boost the income of pensioners and savers hit by low interest rates.
In his Budget speech, he made tax-free ISAs more "generous" and unveiled a million new "pensioner bonds".
The BBC's presenter of the financial programme Money Box, Paul Lewis, has been picking through the details of the speech and checking what some of the changes really mean to you.
He asked for your contributions on Twitter.
Here is an edited version of the session, which was held on Wednesday 19 March
Question from @cestriankeef: Is the new pensioner bond taxable?
Paul answers: Pensioner bonds begin 1 January 2015. Interest will be taxable and rates will be set in Autumn Statement
Question from @rdotsidney: My neighbour is nagging me - does 0% tax on savings income start 15/16? and will gross payment claims rules be widened?
Paul answers: From April 2015 if total income is below £15,500 and some is savings interest that will be tax-free
And ...you will be able to register to have it paid gross.
Question from @portman3stars: Paul what will be the 10% savings tax allowance for 2014/15?
Paul answers: It's £2880 on top of your personal allowance but ONLY applies if you have no other income above that.
Question from @GaryMarshall19: Will existing stocks and shares ISA now be able to be transferred into cash ISA?
Paul answers: Yes from 1 July. But it will be up to shares ISA provider how easy or even possible that will be.
Question from @MrBBrown: Will S&S NISA providers be able to turn this into a share-dealing account holding cash and shares outside taxation?
Paul answers: My understanding is they will but it will be up to the provider.
Question from @bobhoskins: Paul from what date will I be able to take all cash rather than purchase an annuity?
Paul answers: New rules begin fully April 2015. Some improvements from 27 March 2014.
Question from @fuzzy139: Will we have to switch ISAs or will it be automatic change to a NISA.
Paul answers: From 1 July 2014 all ISAs - shares and cash - will be come NISAs subject to new rules.
Question from @GroggyalarmKate: Anything in there for low income single parents, earning 17k or less?
Paul answers: No. There will be a cap on total benefit expenditure from 2015/16 so more cuts may be needed.
You can follow Paul on Twitter: https://twitter.com/paullewismoney