Max Clifford 'exposed himself to 16-year-old girl'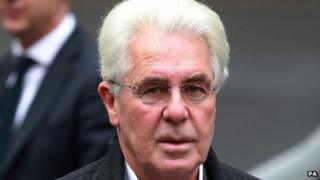 Max Clifford exposed himself in his office to a 16-year-old aspiring actress who confided in him about her abusive family life, a court has heard.
The woman, who said she met Mr Clifford in 1988 when she was living in care, said he had also taken her to an office toilet and forced her to touch him.
The woman is not among seven alleged victims of the publicist, who denies a total of 11 indecent assault charges.
The jury also heard he told police it was "revolting" to be accused.
'Achilles heel'
The woman, now aged 42, appeared via video link to give evidence in support of the prosecution case.
She told Southwark Crown Court Mr Clifford had offered to help her become a model and get her film roles.
She said that, while visiting Mr Clifford at his office, he had told her to go to a pay phone in a department store to receive a phone call.
When she picked up the phone, a man told her to go back to the office and find Max Clifford's "Achilles heel", she told the court.
She said she had not understood what this meant, but when she returned to the office, Mr Clifford exposed himself before instructing her to return to the store to pick up another call.
A man once again told her to return to the office where Mr Clifford again exposed himself, she told the jury.
And this time he went on to lead her into a toilet where he forced her to touch him, she said.
Asked by prosecutor Rosina Cottage QC how she had felt, the woman said: "Pretty disgusted at that point, and confused."
'Quite a panic'
The court was also told that Mr Clifford had invited her to a restaurant where he asked her to "go to the toilet" with another man, which she refused to do.
She said the publicist had later arranged for her to meet a man he said was directing a film with Blade Runner actor Rutger Hauer.
The woman told the jury that the man had taken her to a house and tried to kiss her before she left.
"I was in quite a panic to get out of there," she added.
She said she had gone to confront Mr Clifford about what had happened, adding: "The way he looked at me was enough - I just left."
The woman, who said she never saw Mr Clifford again, explained that she had never told anybody about the experience because it was "humiliating".
But when she saw the publicist protesting his innocence after his arrest in 2012, she decided to contact the police, the court heard.
'Without foundation'
Jurors were later read extracts of police interviews with Mr Clifford when he was first questioned after his arrest in December 2012.
The court heard that police quizzed him over an allegation that he indecently assaulted a girl he met while on holiday with her family in Torremolinos, Spain, in 1977.
Police told him they had found a letter from the woman - accusing him of abusing her - in his bedside table.
He told police: "I've received letters about controversial things, when I was involved in OJ Simpson and Guantanamo Bay.
"It's the first one I've ever received accusing me of being a paedophile.
"It's disgusting and totally without any foundation at all. I didn't abuse this girl."
He told police he had kept the letter in his bedside drawer so he could show his wife, the court heard.
He had helped to expose pop star Gary Glitter and Jonathan King as paedophiles in his work as a publicist, he added.
And he told officers he did not need to force himself himself on women, saying he had lots of female attention.
He also acknowledged having had sex in his office with a personal assistant, with whom he had had an affair, telling police: "I had a very active sexual life for many, many years."
Mr Clifford, 70, from Hersham, Surrey, denies 11 counts of indecent assault - relating to seven alleged victims aged from 14 to 19 - between 1966 and 1984.
The trial continues.