Job-hunting with a criminal past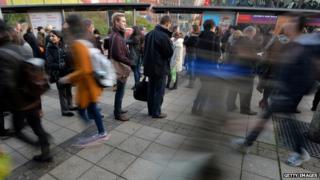 A change in the law means thousands of ex-offenders looking for work will have their records wiped far sooner. But what is job-hunting like for those with a criminal past?
"All my life I've been in and out of jail, taking from my family and society. I was in for supplying heroin and I've got a history of drug addiction."
Released six weeks ago, 47-year-old Londoner Joanne, who does not want to give her full name, has been in prison five times before.
On paper she may not be the most employable person, but she is trying to change that.
The routine of getting out of bed in the morning and going to a workplace - any workplace - is what she feels she needs to avoid going back to drugs. She would like to work with animals, but says retail or catering is more likely.
"I can understand that most employers wouldn't want to hire someone with a conviction," says Joanne. But she is hoping to find "that one person" willing to give her a chance.
It is not an easy task, but Joanne is among a group of women taking part in a 12-week employability programme run by the charity Working Chance, to which BBC Radio 5 live was given exclusive access.
It offers the chance to build skills that many of the women lack - like CV writing and interview techniques - and also covers self-esteem and how to tell potential employers about convictions.
It is that disclosure of past offending that can often see an otherwise promising job application rejected.
Three-quarters of newly released offenders in England and Wales are unemployed, according to figures from the National Offender Management Service, but work is often a key factor in preventing reoffending.
Research by the Ministry of Justice shows 47% of adults reoffend within a year of release, and for those serving sentences of less than 12 months this figure rises to 58%. Nearly three-quarters of under-18s are reconvicted within a year of release.
Working Chance says that the reoffending rate for the women they place into work is consistently below 3%, in contrast to the 45% national average for women.
Last year it placed 93 women into paid work and 72 into voluntary work, of whom half went on to secure paid posts.
Earlier this month, the government announced reductions to the amount of time offenders are required to disclose details of low-level convictions.
The current seven-year period for sentences of up to six months will become two years and for sentences of six to 30 months it is reduced from 10 to four years. Offenders serving more than four years must disclose for life.
But for those who have recently left prison, the challenge of coming clean remains - something the Working Chance course addresses through mock interviews with real employers.
In the glossy offices of a law firm in central London, the women - dressed up for the occasion - rotate desks for their six 15-minute interviews in a speed-dating type scenario.
The organisers say it is as much about showing employers that these women have potential as it is about the women building their confidence.
"It's important for our candidates to experience being interviewed in a corporate environment, meeting employers so they know they can succeed, they can get jobs," says Working Chance founder and chief executive Jocelyn Hillman.
"There is so much ignorance and prejudice. We are such a risk-averse country that everyone is afraid of employing an ex-offender."
The course teaches the women to disclose convictions to employers as soon as possible, even if they do not ask. But it does not always go well.
"One of our candidates went to an assessment day and they got through to the final two. But as soon as they got to the one-to-one interview and they disclosed their conviction they were practically escorted from the building," says Hillman.
But there has been more success with other employers - including sandwich chain Pret A Manger and Virgin, which has encouraged other companies to proactively recruit ex-offenders and reports its own experience as "wholly positive".
Another employer, the law firm Freshfields, says recruiting ex-offenders helps diversify its workforce and only requests information about unspent criminal convictions once a job offer has been made, to help prevent discrimination.
Auction house Christie's recently offered a post to someone with an unspent conviction for a financial offence. The person will not have access to cash or funds.
Recruitment manager Toby Monk says: "If someone had a conviction for theft, we would be unlikely to put them in an art-handling position where they are carrying valuable works of art - while in a customer service role there wouldn't be a risk. We judge it on a case-by-case basis."
For some of the women taking part in the mock interviews, openly disclosing their convictions proves difficult and embarrassing.
And for Joanne, getting it right means striking a fine balance - as she discovered in a practice session.
"One of the interviewers said, 'What's the chance of you staying clean?' and I said, 'Well, today 99%, but you can never say never.'
"She said, 'Maybe next time be a little more positive and say, 'Today I feel like I'm never going to use again!'"