Singaporean president to make state visit to UK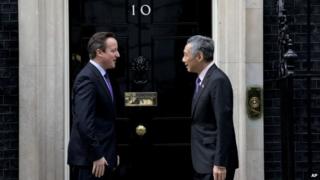 The president of Singapore is to become the first leader of his country to make a state visit to the UK.
Tony Tan Keng Yam had accepted an invitation from the Queen to travel to London in October, Buckingham Palace said.
Mr Tan will be joined by his wife Mary for the three-day trip.
Prime Minister David Cameron said the visit would demonstrate the closeness of Britain's commercial and political relationship with Singapore.
A day after his weekly audience with the Queen at Buckingham Palace, Mr Cameron said: "I was discussing this with Her Majesty last night and she is very much looking forward to it.
"It's excellent news and a moment, I think, to demonstrate our close economic, political and strategic ties."
Analysts say the UK has been trying to boost trade ties in southeast Asia.
Mr Cameron held talks with his Singaporean counterpart, Prime Minister Lee Hsein Loong, in Downing Street on Thursday.
Britain usually hosts two state visits each year. Irish President Michael D Higgins is being received from 8 to 11 April.
Mr Tan and his wife are due to arrive in the UK on 21 October.