Barristers suspend action after legal aid deal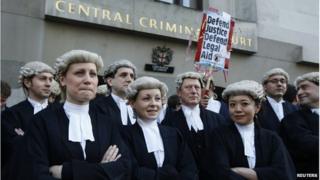 Criminal barristers have agreed to call off industrial action after ministers delayed proposed legal aid fee cuts until at least the summer of 2015.
The government has clashed with lawyers over plans for an average 6% cut to the criminal legal aid system.
Justice Secretary Chris Grayling said it was a "positive step forward" but said the savings were still needed.
The Criminal Bar Association welcomed what it called a "breakthrough" deal.
The agreement comes after thousands of lawyers staged their second walkout on 7 March, causing widespread disruption.
Solicitors and probation officers will continue with another planned protest on 31 March.
'No choice'
As a result of the deal, the fee cuts will not come into force until at least the summer of 2015, after the next general election.
As well as not considering any more walkouts, barristers will also drop a "no returns" policy, which meant briefs for missed hearings were not being picked up.
If cases take longer than expected, a barrister's next brief is "returned" to another lawyer, who takes it.
The Criminal Bar Association also dropped its objection to working at reduced rates on the most complex, high-cost cases.
Around half of the annual £2bn legal aid bill goes on criminal defence and the rest on civil cases.
Mr Grayling said: "I have always said that, given the current economic climate, I have no choice but to make savings, but that I also wanted to do what I could to ease their effects on lawyers.
"Hopefully today's agreement proves that I am true to my word."
The Criminal Bar Association said the "breakthrough" deal would give 89% of criminal barristers - those not working on the most costly cases - what they had wanted.
Nigel Lithman, the association's chairman, said: "We hope that constructive engagement can produce further sensible conclusions, not only with the criminal bar but with also the criminal solicitors who keep the system running smoothly up and down the country."