Max Clifford's daughter denies being told of alleged assault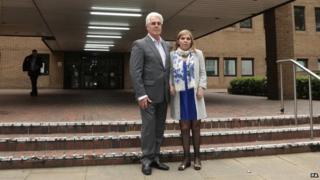 Max Clifford's daughter has told a court that claims she knew about an alleged assault by her father are "completely untrue".
Louise Clifford was responding to allegations by one of Mr Clifford's accusers, who says she told his daughter about an assault in 1983.
Ms Clifford testified that she had no recollection of the complainant.
Mr Clifford, 70, from Hersham, denies 11 counts of indecent assault relating to seven alleged victims aged 14 to 19.
The incidents are alleged to have happened between 1966 and 1984.
Jacuzzi
The complainant who said she had spoken to Ms Clifford was 12 at the time of the alleged offence. She has said the publicist assaulted her in a jacuzzi in Spain.
She has told the trial she went to the jacuzzi with Mr Clifford and his daughter in 1983 after playing with Ms Clifford in a swimming pool.
Ms Clifford later got out and she was left with Mr Clifford alone, she said.
In her testimony, Ms Clifford told Southwark Crown Court that she would not have been able to get in or out herself because she had severe juvenile arthritis.
She was asked about claims the alleged victim told her about the incident immediately afterwards.
Ms Clifford said: "It is completely untrue - utterly, utterly a lie. It didn't happen."
She also recalled her father receiving an anonymous letter which accused him of assaulting a woman more than 35 years earlier.
She said Mr Clifford was "nonplussed" and "bewildered" by the claims.
'Mad woman'
Ms Clifford was asked whether the letter read as though it was written by "someone hurt by your father".
She replied: "It was the ranting of a mad woman. That was my reaction."
She also told the court her father had admitted having affairs before her mother died.
Ms Clifford said she had not told her mother, whom she had thought already knew.
She added: "I think she knew but she handled it in her own way."
Mistake
In earlier testimony, a former singer denied he had altered his account of a trip with Mr Clifford to Spain to aid the publicist's defence.
Tom Waite had told police he was with Mr Clifford in Torremolinos in August 1977, when another alleged victim says she met him.
But Mr Waite told the court on Wednesday that he had made a mistake and got the month wrong.
Mr Waite - who won talent show New Faces in 1973 - said he was with Mr Clifford at the Hotel Pontinental in June and July 1977.
But he said the publicist was not with him when he returned to the town to perform the following month.
Asked why he had previously said they were together in August, he told the court he had been under pressure during a police interview and that his ex-wife had refreshed his memory later.
Elvis
Mr Waite denied that Mr Clifford had supplied him with dates so he could change his account.
He added: "I'm getting angry about that actually because I don't lie. If he's done something wrong he deserves what's coming to him."
The court has previously heard that an alleged victim remembered the time she met Mr Clifford because Elvis Presley had died during her trip.
But Mr Waite said he remembered calling Mr Clifford in his central London office after Mr Presley died.
The case continues.