Phone-hacking trial: Security chief 'would not break law'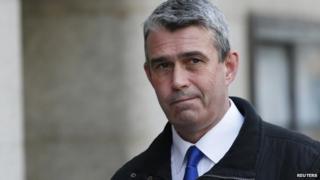 News International's head of security has told the phone-hacking trial that he is loyal to his employer but "would not commit a crime for anyone".
Mark Hanna was asked why he had undertaken the "dangerous" operation of moving bags around the country when the police were actively investigating phone hacking at the News of the World.
He told the jury at the Old Bailey: "I believe what I did was legal."
All seven defendants on trial deny the various charges against them.
Mr Hanna, 50, from Buckingham, has been suspended on full pay since he was arrested in March 2012.
He is accused of conspiring to pervert the course of justice by concealing computers and other electronic devices from the police.
The jury were told that Mr Hanna took a leather briefcase containing "personal items" from Charlie Brooks, the husband of former News International chief executive Rebekah Brooks, as well as a laptop computer and a padded envelope containing pornographic DVDs.
Mr Hanna has admitted that he knew he was concealing the items from the police, who were searching Mr and Mrs Brooks's flat in Chelsea Harbour, but he said he thought he had been hiding pornography.
He has denied any knowledge of a further bag recovered by police that contained another laptop, an iPad and other electronic items.
The bags were found by a cleaner in the underground car park at the Brooks's flat the day after Mrs Brooks was arrested.
Mr Hanna was challenged on why text messages between members of the security team looking after Mr and Mrs Brooks had referred to the delivery of a pizza by one of them to Mr Brooks as "pizzagate".
Watergate
Andrew Edis QC, prosecuting, suggested that one possibility was that it was in reference to the American Watergate scandal in the 1970s, which involved a "cover-up".
Mr Hanna said he had never heard of the term "pizzagate" although he had later searched for it online and thought it was something to do with an incident at Old Trafford involving Sir Alex Ferguson.
Mr Hanna also said that the only "Watergate" he knew was at the Tower of London, where he had previously worked as a security guard.
Mr Hanna is one of seven defendants in the case, which revolves around illegal phone hacking by journalists at the now defunct News of the World newspaper.
Mrs Brooks is a former editor of the newspaper and was chief executive of News International when the phone-hacking scandal unfolded.
The case continues.