Keir Starmer: Victims face 'unacceptable court ordeal'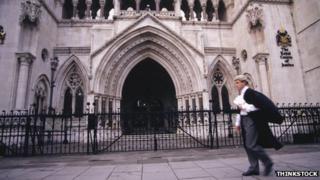 Victims of violent crime face an "unacceptable ordeal in the courtroom", a former chief prosecutor has claimed.
Sir Keir Starmer said most victims had little faith in the system and many lacked the confidence to come forward.
Unveiling a raft of ideas which could form part of a new victims' law, Mr Starmer said vulnerable witnesses could be questioned by a trial judge, rather than cross-examined by a barrister.
He is part of a Labour taskforce making proposals for England and Wales.
The Conservatives said the government was already piloting new ideas to protect victims.
Victims 'deterred'
Ahead of the first meeting of the taskforce, Sir Keir - who served as director of public prosecutions between 2008 and 2013 - said measures previously deemed "no-go areas" should be considered.
"The consensus pretty much is that most victims don't have the confidence to come forward and if they do come forward they say they'd never do it again," he told BBC Radio 4's Today programme.
"Now that isn't good enough."
Writing in the Guardian, he added: "Most victims have so little faith in our criminal justice system that they do not access it at all."
Labour's taskforce is examining whether victims of violence or sexual abuse should be required to go to a police station to report a crime.
Sir Keir, who stood down as director of public prosecutions last year, said this requirement "puts many off from the start" and suggested this process could take place somewhere else.
He said the combative atmosphere of court cross-examination had obvious downsides for some witnesses, adding: "Perhaps judges should be given the task of questioning young and vulnerable witnesses?"
Making it compulsory for people working with children to report suspicions of sexual abuse could also feature in the victims' law.
The taskforce also includes Labour peer Baroness Lawrence, mother of murdered teenager Stephen, and Peter Neyroud, former chief constable of Thames Valley Police and now a criminologist at Cambridge University.
Labour leader Ed Miliband said: "It is time for a radical change in approach and I am delighted that the taskforce will look at the end-to-end service victims receive."
On behalf of the government, Justice Secretary Chris Grayling said more money than ever before was available for victims' services.
He said: "We are also piloting pre-trial cross-examination to help young and vulnerable witnesses give evidence without going through what can be an aggressive and intimidating court experience."
A new victims' panel would allow people affected by crime to tell ministers about their experience, he said.
He added: "We will continue to work with others to ensure victims get the help they need to come to terms with and recover from the traumatic effects of crime."
In Northern Ireland, a spokesman for the Department of Justice said it would soon be setting out plans for a "victim charter", while in Scotland a Victims and Witnesses Act came into force earlier this year.