Polish MP Artur Debski 'living like migrant' in UK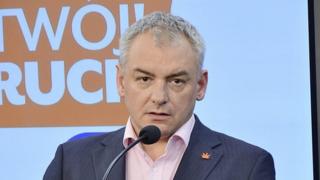 A Polish MP is living on a low budget and searching for a job in London as he seeks to understand why so many young Poles move to the UK.
Artur Debski, of opposition party Your Movement, said the migration trend was a "dangerous" problem for Poland.
Speaking to the BBC while travelling to a job centre, he said he would stay for up to two weeks to learn about Britain.
He said a Polish woman had offered him a "small room" for Monday night but he had "no reservations" after that.
'Honest' job search
Asked what sort of job he hoped to find, he said he did not know.
"It's not very easy," he added.
He said he would be honest about his situation when applying for jobs.
Mr Debski, who arrived on a budget airline flight and plans to live on £100 a week, said he wanted to understand why it was "not possible" for Poland to keep its young workers rather than losing them to the UK.
"It is very dangerous for Poland," he said.
He said he must find the answers to "many questions" and must "think about this problem" during his time in the UK.
Hundreds of thousands of Poles have come to the UK since Poland joined the European Union in 2004.
The 2011 census found there were 579,000 Polish-born people living in the UK - a 10-fold increase from 10 years earlier.