Lee Rigby killer Michael Adebolajo launches appeal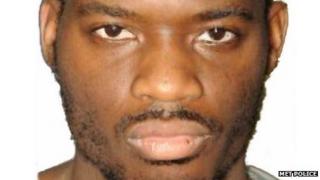 Michael Adebolajo, who was given a whole-life tariff for the murder of soldier Lee Rigby, has launched an appeal against his sentence.
Adebolajo, 29, together with Michael Adebowale, 22, drove into Fusilier Rigby with a car before hacking him to death in Woolwich, south-east London.
At the time, judge Mr Justice Sweeney, said Adebolajo's was a "rare case" which warranted a whole-life term.
Adebowale was sentenced to a minimum of 45 years in jail.
Mr Justice Sweeney said the pair, both British-born Muslim converts, had "butchered" the 25-year-old soldier.
In court Adebolajo from Romford, east London denied murder, and described the killing of Fusilier Rigby as a "military operation", claiming that he was a "soldier of Allah".
But after hearing about the attack on 22 May last year, the jury took 90 minutes to find them both guilty.
Adebolajo said he and Adebowale, from Greenwich, south-east London, decided to lie in wait near Woolwich barracks, and targeted Fusilier Rigby because he was wearing a Help for Heroes hooded top, and carrying a camouflage rucksack.
'Maximum media coverage'
As a police vehicle approached, the men then rushed towards it, waving the meat cleaver and a firearm.
They were both shot, but were cleared of attempting to kill a police officer by claiming they had wanted armed officers to shoot them dead so they could "achieve martyrdom".
An investigation by the Independent Police Complaints Commission (IPCC) later concluded the police officers who shot the men "acted appropriately to the immediate threat".
Mr Justice Sweeney said the pair carried out the murder "in a way that would generate maximum media coverage", and that Adebolajo, who has two children and four stepchildren, had "no real prospect of rehabilitation".
He added: "He [Lee Rigby] had done absolutely nothing to deserve what you did to him."
At the time, Det Insp Pete Sparks, police liaison officer for Fusilier Rigby's family, read a short statement on behalf of the soldier's relatives which said that "no other sentence would have been acceptable".
In January Adebolajo also filed for an application to appeal against his conviction.
Details as to the grounds for the appeals have not been made public.