Syria-related attacks 'main terror threat to UK'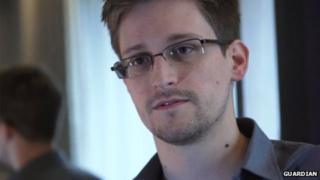 Syria-related terrorism is now the main challenge for the UK security services.
That was the view of Charles Farr, the government's chief anti-terrorism official, releasing his annual report.
He said leaks by US whistleblower Edward Snowden had "made our counter-terrorist work harder than it was before and means we can no longer do some of the things we were doing".
But he revealed that "handfuls" of people had been stopped from boarding aircraft to the UK due to threat fears.
None of those individuals was found to be carrying explosives, and it is not clear which countries they were attempting to travel from.
"The terrorist threat to the UK comes from an increasingly wide range of countries and groups, many of which are new," the report said.
Work to combat the threat was becoming harder, it continued, because many of those new countries "do not have effective law enforcement and security agencies operating to our standards of human rights and the rule of law".
The report - which covers the year to September 2013 - said a number of people, likely to be in the low hundreds, had travelled from the UK to support terrorist groups fighting in Syria - "many more than travelled to Iraq."
It said the government was concerned about the threat they posed to the UK, but dealing with that was "a very significant challenge" for a number of reasons, including the ease of travel across porous borders and the ready availability of weapons.
Revelations by Edward Snowden - a former CIA employee and US National Security Agency contractor who revealed extensive internet and phone surveillance by US intelligence - had also made the security challenge tougher, Mr Farr told journalists.
He said that because of those leaks, "our coverage of terrorism-related activity is not as good as it otherwise might have been", adding that he was referring to knowledge of "people and plots fundamentally".
Other key points from the report include:
the power to revoke or refuse a British passport where an individual is suspected of terrorist involvement has been exercised 14 times since April 2013, notably regarding people connected to Syria.
between April 2012 and December 2013 there were 1,600 referrals to the Channel project, which aims to identify young people at risk of radicalisation. 300 have so far gone on to receive support.
the UK estimates that some 50 foreign nationals were kidnapped worldwide by terrorist groups in 2013 and at least $45m (£26.8m) paid out in ransoms.