RAF jets thwart Afghanistan roadside bomb attack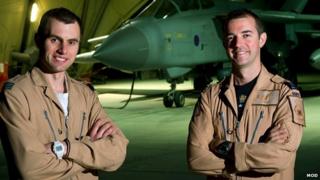 Two RAF jets helped thwart a deadly roadside bomb attack in Afghanistan, the Ministry of Defence has said.
The Tornado GR4 fast jets spotted a group of insurgents planting the device just hundreds of metres ahead of a convoy of US and Afghan troops.
One flew low and fast over the group in a "show of presence", firing flares and forcing them to scatter.
Pilot Flt Lt Geoff Williams said such displays created a "huge psychological impact" and sparked fear.
The jets used surveillance equipment to spot the insurgents as they gathered at a bridge and began digging in the road to plant their improvised explosive device (IED).
The aircraft, from Number 2 (Army Co-operation) Squadron, had been flying over the International Security Assistance Force (Isaf) convoy in Shindand district, Herat Province, Afghanistan, when the incident happened in mid-March. They were there to support the convoy after an earlier IED blast.
They spotted the insurgents in the dark using the advanced Litening III surveillance pod, which allows the Tornado to feed up-to-the-minute data back to forces on the ground.
Flt Lt Williams said: "Identifying insurgent activity from 10,000ft can be challenging but in this case it was clearly suspicious.
"Two people on a motorbike rendezvoused with two others waiting by a small bridge. They collected items stored under the bridge and began digging in the road."
Flt Lt Williams said the group had been startled by the noise of his jet, as it flew over them and fled on a motorbike.
He said the whole event was over in a minute.
'Scrape the ground'
"The presence of a Tornado provides a huge psychological impact, reassuring Isaf troops and the civilian population, and sparking fear in the insurgents," he said.
Troops on the ground then used data from the second aircraft's surveillance pod to find and destroy the bomb.
Wing Cdr Jez Holmes, officer commanding No 2 (Army Co-operation) Squadron, who was piloting the other aircraft, said troops found enough explosives to have caused "multiple casualties" to soldiers and the local civilian population.
"It's good to have removed that threat," he said.
The Afghan-partnered ISAF convoy included troops from the Texas-based 2nd Battalion, 5th Infantry Regiment of the US Army's 1st Armored Division.
The unit's forward air controller Sgt Louis Awua said: "When the Brits do shows of presence they almost scrape the ground."
Tornado GR4s are routinely used to support Afghan-led ground forces across Afghanistan.