Flood protection restored for thousands across England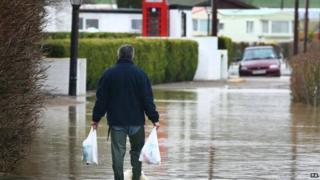 Flood protection has been restored to more than 100,000 properties in England left at risk after the wettest winter on record.
The Environment Agency (EA) said that 350 flood defences and other protections have been repaired in England this year.
EA chief executive Dr Paul Leinster said the work would provide "peace of mind" to many flood-hit residents.
More than 650 defences were still in need of repair, the agency added.
Most urgent
Following the severe winter storms, inspectors from the EA joined members of the armed forces to take stock of the damage.
They identified 1,000 areas - including flood defences, beaches and other protections - in need of repair.
Work has now been completed on the most urgent, the agency said, ensuring protection for 115,000 property owners.
Notable work already completed includes:
Repairs in Weymouth, where sea defences were washed away by stormy seas in January and February
Restoration of defences at Greatham Creek in Teesside, where flood water created a 50-metre breach in the sea defence embankment
The fixing of Dune systems on beaches along the Lincolnshire coast - providing protection to more than 20,000 properties
The return of more than 40,000 tonnes of shingle to the Denge frontage near Camber in Kent to reduce exposure to the elements
'Much to do'
Dr Leinster said: "Many of the flood-risk management assets damaged in the extreme weather since December have already been repaired, restoring protection, and peace of mind, to many communities across the country."
He said the agency had "prioritised the most urgent repairs" but there is "still much more to do."
The next phase of restoring defences will provide protection for a further 180,000 properties in England, the EA said.
The work will be completed over the coming weeks and months, a spokeswoman added.
Floods Minister Dan Rogerson said: "Our flood defences took a battering over the winter but we are getting on with the job of repairing them."
He said the government wanted to see flood defences "back to full working conditions" and would provide £270m to maintain them over the next two years.