Cardinal calls for 'respect' in immigration debate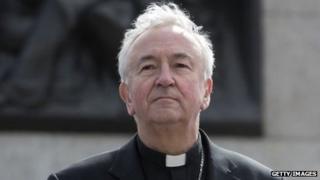 The leader of the Roman Catholic Church in England and Wales has called for more "realism" and "respect" in the debate about UK immigration.
Cardinal Vincent Nichols told the Daily Telegraph language on the subject should not be "alarmist".
He said most immigrants add to the UK's "wellbeing" and the nation should value the "richness" immigration brings.
His comments come a day after a Labour MP said new posters from UKIP were "racist" - a charge the party denied.
Cardinal Nichols did not single out any political party in his call for more measured discussion.
"What I would appeal today is that the debate about immigration is done with a sense of realism and a sense of respect - and that it is not cushioned in expressions which are alarmist and evocative of anger or of dismay or distress at all these people coming to this country," he said.
"We have to grow to appreciate the richness that immigration brings.
"The reality is that the vast majority of migrants to this country add to our wellbeing."
'Profound uncertainty'
Cardinal Nichols spoke after he and Justin Welby, the Archbishop of Canterbury, visited Giuseppe Conlon House, a Catholic-run refuge in London.
He voiced concern that people waiting for permission to remain in the UK were being "crippled" by waiting up to seven years for a decision.
"They will get vouchers for food but all other aspects of life are closed off to them," he said.
"That creates tremendous personal and health issues for people who are waiting. They just live with this profound sense of uncertainty for year after year after year."
The UKIP posters, criticised by MPs including Labour's Mikes Gapes, feature various messages including a warning that UK workers are being "hit hard by foreign labour".