Madeleine McCann: Police probe 18 intruder break-ins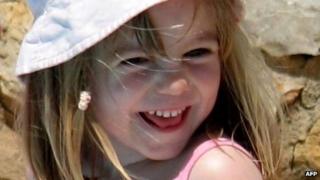 British police investigating Madeleine McCann's disappearance are now looking at 18 potentially linked break-ins by a lone intruder into Algarve villas.
Six have come to light since an appeal by UK detectives last month, with five involving alleged sexual assaults against young British girls.
They include an assault on a girl aged 10 in 2005 in Praia de Luz - the resort from which Madeleine vanished in 2007.
Scotland Yard says it hopes UK officers will begin operations in Portugal soon.
Last month, the Metropolitan Police revealed they were looking at a series of break-ins, including two burglaries in Praia da Luz.
More than 500 calls have been made with information since then.
Det Ch Insp Andy Redwood said: "As a result of those 500 calls, we have now identified a further five sexual assaults and one near miss. None of those six matters we were aware of prior to our appeal.
"In this new tranche of information we have got one crime which is very clearly in the heart of Praia da Luz in 2005, on a young, white, 10-year-old girl.
"Clearly the fact that we've now got an assault that is in the heart of Praia da Luz, very close to where a previous matter had been reported, means that we are even more interested in this as part of the inquiry."
Pot-bellied intruder
The case involving the 10-year-old was not reported to police in either country until now.
Overall, nine of the 18 break-ins involved alleged sexual assaults against British girls aged six to 12.
Three took place in Praia da Luz, five in Carvoeiro, nine in Albufeira and one in Vilamoura.
Investigators from Scotland Yard are waiting for an official agreement later this week which would allow them to begin "operational activity" on Portuguese soil.
Dep Asst Commissioner Martin Hewitt said: "I am cautiously optimistic that in the not-too-distant future we are going to start to see activity."
Mr Hewitt would not reveal what the operations would involve.
Detectives said last month that the lone intruder was described as tanned with dark hair.
They said the man was bare-chested in some of the attacks, and some witnesses said he had a pot belly. Three victims said he had a "noticeable odour".
Two of the families said the intruder had worn a distinctive burgundy long-sleeved top, and one family said the top had a white circle on the back.
The man was said to have spoken English slowly, with a foreign accent.
Scotland Yard launched a new investigation - codenamed Operation Grange - into Madeleine's disappearance last July, two years into a review of the case.
A high-profile campaign run by Madeleine's parents Kate and Gerry McCann, from Rothley, Leicestershire, and a Portuguese police investigation had so far failed to locate the missing child.
Madeleine was three when she vanished from the family's holiday apartment.