Pussy Riot singer joins opposition to UK prison book ban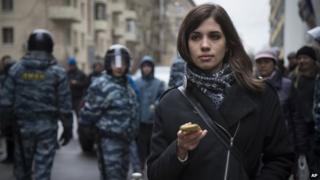 Pussy Riot member Nadezhda Tolokonnikova has given her support to a campaign against the UK government's ban on sending books to prisoners.
Ms Tolokonnikova, who spent 16 months in jail for protesting against Russian president Vladimir Putin, is one of 10 prominent former prisoners to write about the importance of books in jail.
"Books make up your entire world when you are a prisoner," she said.
Justice Secretary Chris Grayling said the ban helped keep prisons drug-free.
Under the law, introduced in November, prisoners are prevented from receiving parcels, including books, unless they have "exceptional circumstances", such as a medical condition.
Last month, poet laureate Carol Ann Duffy took part in a protest against the ban outside Pentonville Prison in north London.
Ms Tolokonnikova, British theatre producer David Cecil and writers from countries including Belarus, Cameroon, Cuba and Uzbekistan, all contributed essays to a campaign being led by the Howard League for Penal Reform and freedom of expression group English PEN to overturn the ruling.
'Torture'
Ms Tolokonnikova, who was jailed in August 2012 for singing a protest song in a Moscow cathedral in 2012 but was freed in December, added: "Because you have books you know that every day you spend behind bars is not a day spent in vain.
"You wake up with a book and you fall asleep with a book, reading after lights out by the dim glow of a torch. Prison is probably one of the most text-centric places in this, our contemporary reality."
Belarusian journalist Iryna Khalip, who was detained for criticising her country's regime, described being deprived of books in prison as "torture."
She said: "In prison books become the air. Your body needs air to breathe. No books - you cannot breathe. And if you cannot breathe there is no life."
Mr Cecil, who was arrested in Uganda following the production of a play with a gay character in 2012, said the three books he had with him behind bars provided an escape.
"Unsanctioned, ungoverned, unimpeachable; my mind was, in the company of these books, my own," he wrote.
The testimonies were published on Wednesday to coincide with World Books Night, an annual occasion when English PEN sends books to writers at risk.
'Absurdity'
Jo Glanville, English PEN's director, told BBC News: "We are in a rather ironic Alice in Wonderland situation where we can send books to Cameroon but not Wormwood Scrubs. That points up the absurdity of the government's policy.
"Books are a lifeline for people in prison. They are a necessity and the government's policy is extremely short-sighted."
Mr Glanville said a letter from English PEN to Mr Grayling requesting an urgent meeting, sent on 3 April and signed by writers Duffy, Ian McEwan and Julian Barnes, had still not received a response.
A spokesman for the Ministry of Justice told the BBC it would be responding to the letter "in due course".
In an open letter to Duffy on 30 March, Mr Grayling argued that allowing prisoners to receive regular parcels would "put in jeopardy the efforts of prison staff to keep drugs and other illicit materials out of prisons".