Firefighters strike for a third day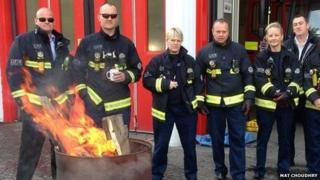 Firefighters in England and Wales have completed their third strike in three days as part of an ongoing row with the government over pensions.
Fire Brigades Union (FBU) held strikes on Friday and Saturday, and walked out again from 10:00-15:00 BST on Sunday.
They oppose plans to increase pension contributions and retirement age.
The government said a deal on the table gave firefighters "one of the most generous pension schemes in all the public sector".
In Scotland there is a ban on voluntary overtime from noon on Friday until 9 May.
'Common sense'
Fire authorities have made other arrangements for fire cover, including hiring contractors and using retained firefighters - on-call firefighters who are mainly based in rural areas.
A spokesman for the FBU, which says between 85-90% of UK firefighters are members, estimated that between 35,000-40,000 were on strike on Sunday.
There were picket lines at the majority of fire stations in England and Wales, he added.
The union is angry that firefighters face paying higher pension contributions, working into their late 50s before retiring and could be sacked because their fitness declines as they get older.
General secretary Matt Wrack said it was time for the government's "games to stop and common sense to prevail".
He said it was "very disappointing that we've been forced to hold another three days of strikes".
"But nothing will deflect firefighters' resolve when the future of their families - and the fire and rescue service itself - is at stake," he said.
"Just like the current bout of industrial action, future strikes could be avoided simply by the government honouring current pension promises."
He called on ministers to release "proposals for the future that reflect the discussions we've held over the last three years and take account of the evidence we have presented about our occupation".
'Untrue' claims
A Communities and Local Government spokesman said: "The deal on the table gives firefighters one of the most generous pension schemes in all the public sector and the proposals protect the earned rights of a higher proportion of members than any other public sector scheme.
"Nearly three-quarters will see no change in their pension age in 2015."
On Saturday, the department denied FBU claims that the government had drawn up alternative proposals "that might point the way towards a solution" six weeks ago but had been "sitting on" them ever since.
The Department for Communities and Local Government said the allegations were "untrue" and alternative proposals had been shared with the FBU on 19 March.