Firefighter row over pensions continues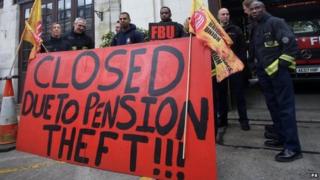 Firefighters in England and Wales staged a third consecutive day of strikes over pensions on Sunday - with no sign of a breakthrough.
Members of the Fire Brigades Union protested over government plans to raise pension contributions and the retirement age.
The government said a deal on offer was "one of the most generous pension schemes in all the public sector".
In Scotland there is a ban on voluntary overtime until 9 May.
'Common sense'
A spokesman for the FBU, which says about 85-90% of UK firefighters are members, estimated that 35,000-40,000 were on strike on Sunday.
On-call firefighters usually based in rural areas and contractors were hired in as part of fire authorities' attempts to ensure cover for those on strike.
The union is angry that firefighters face paying higher pension contributions, working into their late 50s before retiring and could be sacked because their fitness declines as they get older.
General secretary Matt Wrack said it was time for the government's "games" to stop and common sense to prevail.
It was disappointing firefighters had been "forced" to carry out the last three days of strikes.
A Communities and Local Government spokesman said pension proposals protected the rights of a higher proportion of members than any other public sector scheme, and that nearly three-quarters would see no change in their pension age in 2015.
On Saturday, the department denied FBU claims that the government had drawn up alternative proposals "that might point the way towards a solution" six weeks ago but had been "sitting on" them ever since.
The Department for Communities and Local Government said the allegations were "untrue" and alternative proposals had been shared with the FBU on 19 March.
Update 5 May 2014: An earlier version of this story incorrectly said there was a fire strike today (Monday). This has now been corrected.