'Disquiet' among judges over lawyer quality, report finds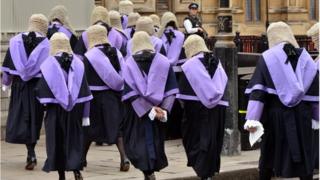 There is "disquiet" among judges about the quality of lawyers in England and Wales's crown courts, a report says.
Former civil servant Sir Bill Jeffrey's report raises concerns about training and the "talent pipeline" for future QCs and judges, and says keeping current arrangements is not "viable".
It also says defence lawyers should get special training before working on rape and other sexual offence cases.
Ministers and lawyers' groups said they would consider the report's findings.
In his review, commissioned by Justice Secretary Chris Grayling, Sir Bill says there is "no hard research evidence on the quality of advocacy" in courts.
'Impossible to defend'
"But I found a level of disquiet about current standards among judges (including some with long experience as solicitors) which was remarkable for its consistency and the strength with which it was expressed," his report says.
Barristers must complete 120 days of specific advocacy training before practising in crown courts, but qualified solicitors can do so after as little as 22 hours of such training - something the report says is "almost impossible to defend".
It says solicitor advocates are a "valuable and established part of the scene", but recommends a "common training expectation" for all lawyers practising in crown courts.
This should "substantially exceed the current requirement on solicitors seeking higher court rights," it says.
Between 2005-06 and 2012-13, the proportion of publicly funded crown court cases in which the defence was conducted by a solicitor advocate rose from 4% to 24% of contested trials and from 6% to 40% of guilty pleas, the report says.
It says solicitors used to recommend a self-employed barrister, but they now have a "commercial incentive" to suggest a solicitor advocate from their own firm.
Solicitors told the report they act in the best interests of their clients, but the report says the current market "could scarcely be argued to be operating competitively or in such a way as to optimise quality".
"The group of providers who are manifestly better trained as specialist advocates are taking a diminishing share of the work, and are being beaten neither on price nor on quality," it adds.
Sex case 'ticketing'
With a "diminishing share of work", the report says numbers of younger barristers will continue to fall.
"In that case, as the present generation of experienced criminal barristers moves towards retirement, concerns about the future 'talent pipeline' for criminal QCs and judges are not, in my view, fanciful," Sir Bill writes.
"This matters, because the particular strengths of the English and Welsh criminal Bar are a substantial national asset, which could not easily be replicated."
The report says questioning vulnerable people in court requires "specific skills".
"The profession should consider the early adoption for defence advocates of a 'ticketing' system, of the kind already in place for the judiciary and the Crown Prosecution Service, under which those appearing in rape and sexual abuse cases must demonstrate that they have undertaken relevant training," it says.
'No magic wand'
Mr Grayling said many of the recommendations were "for the professions to consider", but the government would "carefully consider" those areas it was responsible for.
Law Society president Nicholas Fluck said the organisation would "seek to address" the "challenges" set out in the report.
He said there was "a need to focus on standards and training", adding: "We will be interested in pursuing Sir Bill's suggestion for discussions with regulators over the most appropriate form of training and continuing education for advocates."
Nicholas Lavender QC, chairman of the Bar Council, which represents barristers, said Sir Bill's findings showed action was needed to ensure that "properly skilled and experienced advocates" handled crown court cases.
"Sir Bill has no magic wand and no-one could expect one man to solve all of the system's problems in one report," he said.
But he said the report would "stimulate discussion" and the Bar Council "look forward to debating these issues".