Foreign Office investigates reports Britons killed in Syria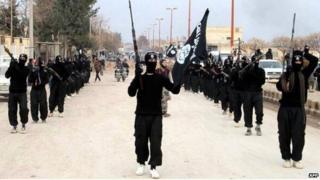 Reports that two British nationals have been killed fighting in Syria are being investigated by the Foreign Office.
The Britons are believed to have been fighting for the al-Qaeda-linked Islamic State in Iraq and the Levant (ISIS), according to extremism expert Shiraz Maher, of King's College London.
The Foreign Office reiterated its warning that anyone travelling to Syria would be exposed to "serious risk".
Up to 20 men from Britain are reported to have died in the conflict so far.
Terrorist groups
Mr Maher, senior fellow at the International Centre for the Study of Radicalisation at King's College, said on Twitter: "It appears two British citizens have died in Syria while fighting for ISIS."
He said the men had been fighting another jihadist group, Jabhat al-Nusra, when they died.
A Foreign and Commonwealth Office (FCO) spokesman said: "We are aware of reports and are looking into them.
"For some years FCO travel advice has advised against all travel to Syria, and all UK consular services in Syria were suspended some time ago. We continue to advise all British nationals in Syria to leave by whatever means.
"Even people travelling for well-intentioned humanitarian reasons are exposing themselves to serious risk, including being targeted for recruitment by terrorist groups."
Security chiefs think hundreds of people have travelled from the UK to fight in Syria, some of whom have returned.
Forty people have been arrested for alleged Syria-related offences during the first three months of this year - almost double the number held during the whole of 2013.
Police recently launched an appeal to Muslim women to persuade their relatives not to go to Syria to fight.