Amnesty poll finds 29% say torture can be justified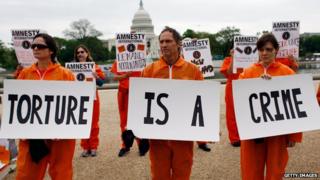 Nearly 30% of people in the UK believe torture can be justified, according to a survey by Amnesty International.
Amnesty said it had not expected the the "alarming" result and said TV spy series were partly to blame.
At 29%, the belief that torture is sometimes necessary to protect the public was more prevalent in the UK than in Russia, Brazil or Argentina.
Amnesty surveyed 21,000 people in 21 countries as part of a global "Stop Torture" campaign.
The UK results were based on a survey of 1,000 people aged over 18.
People in the UK were the most confident they would not be tortured by the authorities, with 83% feeling they were not at risk.
And while the majority of those surveyed (56%) strongly disagreed that torture could be justified to protect the public, 44% ruled out prohibiting torture altogether.
Kate Allen, director of Amnesty International UK, said the findings suggested "we have a lot of work to do" in Britain.
"People have bought into the idea that their personal safety can be enhanced in some way through the use of torture," she added. "That is simply untrue.
"Programmes like 24, Homeland and Spooks have glorified torture to a generation - but there's a massive difference between a dramatic depiction by screenwriters, and its real-life use by government agents in torture chambers."
The non-governmental organisation released the findings as it launched its "Stop Torture" campaign.
The research suggested 79 countries have carried out torture so far this year, with 27 different methods reported.
The techniques range from electric shocks, beatings, rape, mock executions and stress positions to sleep deprivation, Amnesty said.
Victims included criminal as well as security suspects, dissidents, political rivals and schoolchildren.
Amnesty says numerous governments have reneged on commitments to stamp out the "unjustified" mistreatment of their citizens.
Global views
Some 44% of respondents feared they could be tortured if taken into custody in their country
In Mexico this figure jumped to 64% - while high levels of fear were also recorded in Pakistan, Turkey, Kenya and Brazil
A large majority (82%) of people said there should be clear rules against torture
But more than one-in-three agreed that "torture is sometimes necessary and acceptable to gain information that may protect the public"
Almost three-quarters of respondents in China (74%) and two-thirds in Kenya (66%) thought that torture could be justified
Source: Global Scan for Amnesty International
Secretary general Salil Shetty said: "Torture is not just alive and well - it is flourishing in many parts of the world.
"Governments around the world are two-faced on torture - prohibiting it in law, but facilitating it in practice."
Mr Shetty warned governments using national security to justify torture meant 30 years of "steady progress... is being eroded".
Prof Bernadette Rainey, a human rights expert at Cardiff Law School, said malpractice was not confined to "far-flung places" and was happening in European states.
"Many violations concern conditions in prisons, in custody and disappearances," she said.
The survey was carried out for Amnesty by pollsters Globe Scan.