'Plebgate' affair: No misconduct by officer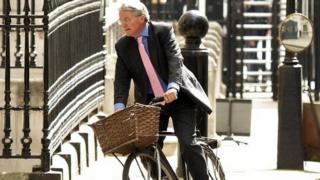 An allegation of gross misconduct made about a police constable over the "plebgate affair" was not proven, a disciplinary panel has found.
James Addison, 37, had been accused of making a false statement.
Ex-cabinet minister Andrew Mitchell resigned in 2012 after a row with police officers who would not let him cycle through the Downing Street gates.
The Conservative MP admitted swearing during the incident but denied swearing at officers or calling them "plebs".
Four officers were sacked for gross misconduct over the affair.
Pornographic videos
Addison was arrested on 19 December in connection with a separate investigation, pleaded guilty to 11 counts of publishing an obscene article and was fined £6,000.
He admitted sending pornographic videos and pictures to colleagues on social networking app WhatsApp while working as a protection officer at Downing Street.
He was suspended from duty after his arrest and faces a "special case misconduct hearing" on 13 June.
Friday's was the final gross misconduct hearing following the Operation Alice investigation, set up by the Met Police in the wake of the "plebgate" controversy.
Deputy Assistant Commissioner Patricia Gallan said: "Operation Alice has followed the evidence and sought to establish the truth about the actions of a number of officers as at the heart of this case were very damaging allegations that officers lied and falsified statements against a cabinet minister."
She said it was clear "officers lied and failed to uphold the standards that are expected of them".
She added: "The actions of these few officers have shaken the public's trust and confidence in us.
"They have been investigated and held to account, four have been dismissed from the service, one of them is also now in prison."
PCs Keith Wallis, James Glanville, Gillian Weatherley and Susan Johnson have all been sacked this year for gross misconduct.
Wallis was jailed in February for 12 months after admitting a charge of misconduct in public office.