Lie detector test training for probation staff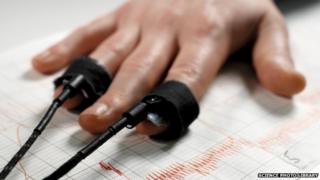 Probation officers in England and Wales will be trained to carry out compulsory lie detector tests on sex offenders.
From October, about 1,000 offenders will undergo the tests designed to ensure they stick to their licence conditions.
The Ministry of Justice (MoJ) also said libido suppressant drugs could be prescribed to the same group.
Justice minister Jeremy Wright said it would be "one of the toughest regimes in the world".
'Extreme circumstances'
The measures will apply to sex offenders on licence who are deemed to to be at "high risk of reoffending and a high risk of serious harm", the MoJ said.
The lie detector tests were piloted in the East and West Midlands and in 2012 it was announced they would be rolled out across the country.
An MoJ study found that offenders taking the tests were twice as likely to admit breaching their conditions, or to reveal "thoughts that could suggest a higher risk of reoffending".
The tests record physiological changes in the body, like heart rate and blood pressure increases.
Officers from the new National Probation Service will undergo a "rigorous" 12-week training programme to qualify as polygraph examiners, the MoJ said.
Some police forces have also been trialling the use of lie detector tests on a voluntary basis.
As well as the polygraph tests, the MoJ said satellite tracking devices would be used on offenders when the technology is available and libido suppressant drugs prescribed on a case-by-case basis.
Violence
Frances Crook, the chief executive of the Howard League for Penal Reform, said: "Chemical castration has been tried in prisons, in extreme circumstances, voluntarily and under medical supervision .
"It may be that in a handful of cases it's an appropriate thing to do. But it's not the answer."
Sex offending is often linked to violence, rather than sexual urges, she said.
Tania Bassett, of probation officers' union Napo, said a "small number" of probation officers would be seconded to the role of polygraph tester.
She said the measures could be a "useful tool" but were not a replacement for supervision by probation officers.
Mr Wright said: "This government is introducing lie detector tests for high risk sexual offenders, as well as satellite tagging to track their movements.
"We are determined that Britain has one of the toughest regimes in the world for managing sex offenders, to stop re-offending and to protect victims."