Charity Save the Children warns of record child poverty by 2020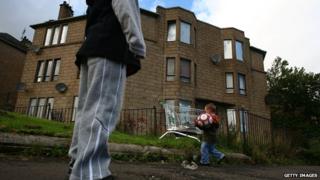 A record five million children could be living in poverty in the UK by 2020, according to a charity.
Save the Children estimates the number of children in poverty could have increased then by 1.4 million.
The charity said families had been hit by a "triple-whammy" of flat wages, cuts to benefits and a rise in the cost of living.
A spokesman said the government is committed to ending child poverty by tackling its root causes.
But a commitment to end child poverty by 2020 is "increasingly window dressing", Save the Children added, with no viable strategy being suggested.
A household is considered in poverty by the charity if its income is less than 60% of the median average after household costs.
Unfair start
In a report - A Fair Start For Every Child - the charity says children have "paid the highest price in the recession".
It points to an increase in the price of food compared with other goods and a jump in childcare costs.
The Institute for Fiscal Studies already predicts an extra 1.1 million children will find themselves in poverty by 2020, Save the Children highlights.
But based on calculations looking at the impact of cuts to government department budgets, the charity believes that figure will actually be 325,000 higher.
Current figures show 3.5 million lived in poverty in 2011-12.
Justin Forsyth, Save the Children's CEO said: "We're increasingly worried that unless there is a dramatic change of course we're at risk of writing off the future of millions of British children, giving them an unfair start in life.
He added: "Millions of children in the UK are being left behind - sentenced to a lifetime of poverty.
No excuse
"Far too many of our children are living in cold and damp homes, without healthy food, with parents who can see no end to their situation. If we ignore the rising toll of poverty we are blighting the future of a further 1.4 million children.
"In one of the world's richest countries there is simply no excuse."
A government spokesman said: "The government is committed ending child poverty by tackling its root causes as part of our long-term economic plan.
"Our reforms will improve the lives of some of the poorest families in our communities by promoting work and helping people to lift themselves out of poverty.
"With the economy growing we have just seen the largest rise in employment for over 40 years and unemployment is falling, with 100,000 fewer children living in workless poor families."