Hacking trial: Brooks's PA 'unlikely' Old Bailey candidate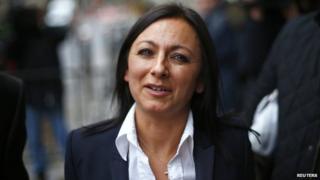 Rebekah Brooks's former PA is the "most unlikely" candidate to appear in the Old Bailey dock, a jury has heard.
Cheryl Carter is accused, along with former editor Mrs Brooks, of destroying seven boxes of notebooks from the News International archive in July 2011.
Jurors heard the boxes were taken to Mrs Carter's home by her son Nick, who worked for News International as an editorial assistant.
Both women deny conspiring to pervert the course of justice.
Mrs Brooks, the former editor of the News of the World and the Sun who later became chief executive of publisher News International, also denies conspiracy to hack voicemails and to pay public officials for information for stories.
The boxes were allegedly removed in the week before the publication of the last edition of the News of the World.
The court has heard the boxes contained Mrs Carter's own notebooks and cuttings and other material related to a beauty column she wrote for The Sun.
The jury heard that she threw away the contents of the boxes after sorting through them and returned material belonging to Mrs Brooks including a personal organiser, notes for speeches and photographs to News International's offices.
'Preposterous'
In his closing defence speech, Mrs Carter's lawyer, Trevor Burke QC, told the jury that a woman "utterly devoted" to her family would not have asked her only son to become "embroiled" in a criminal conspiracy and put him in "harm's way".
Mr Burke suggested Mrs Carter would rather "suffer a thousand deaths" if there was a "1% chance" of her son becoming involved with the police.
He said: "Does that not itself prove that she did not know she was doing anything wrong?"
Mr Burke called the prosecution suggestion that Mrs Carter had recruited her son and involved him in the conspiracy "preposterous".
In describing his client as a woman of "good character", Mr Burke told the jury that he did not use those words in the way lawyers sometimes did, to describe someone who had been "acquitted five times".
He told the jury Mrs Carter was "a good person with a very big heart, which for convenience she wears on her sleeve".
The jury were told that the former PA was "a bit talkative" and "scatty" but was always "unfailingly polite".
Mr Burke asked the jury, "Has there ever been a more unlikely character to stand in the dock at the Old Bailey than Cheryl Carter?"
The trial continues.