World Cup referee Howard Webb tackles racial tensions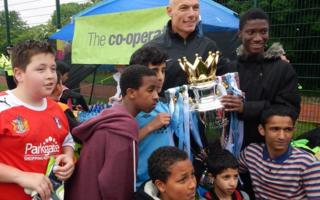 As police use football to try to ease racial tensions in South Yorkshire, they have been getting a helping hand from World Cup referee Howard Webb.
All over the world football fans are trying to guess who will win the World Cup that kicks off in Brazil on Thursday.
But in one corner of South Yorkshire they don't need to speculate - they already know the result. Italy beat Germany in a penalty shoot-out, after a tough goalless draw.
The match was the culmination of a tournament involving hundreds of children, in which school teams represented the countries that will be competing for the World Cup over the next month.
It was certainly meant to be fun, but the tournament has had a far deeper purpose.
It is part of a scheme organised by South Yorkshire Police to improve community relationships in the area by using the international obsession with football to bring together ethnic minorities who are often engaged in what amount to turf wars, fuelled by mutual misunderstandings.
And the police think they have a surprise secret weapon in the form of Howard Webb.
It was Webb, who who refereed the last World Cup final in 2010 and is generally acknowledged to be the UK's top referee, who took charge of the final of the children's tournament.
But he is also especially well placed to capture the imaginations of those growing up in this part of England.
A miner's son, Webb grew up in the area. Some of his most poignant boyhood memories are of the confrontations between miners and police at the Orgreave coking works, just a mile or so from his home.
Despite that, the Rotherham United fan chose to become a serving policeman - with the full approval of his father - and, again with father's support, to take the courses necessary to qualify him as a referee.
"He told me bluntly that I wasn't a good enough player to succeed, but why not learn to be a referee like him," Webb remembers.
Most importantly, he's the man these children see every week on TV, disciplining their heroes - the likes of Wayne Rooney and Steven Gerrard.
Over the past year, he's been spending many hours away from high-profile refereeing, taking charge of games organised by local community police officers around Sheffield, Rotherham, Barnsley and Doncaster.
He has also been visiting schools talking to pupils about the lessons of life: "Amazing things really do happen to ordinary people - when you have a passion for something, when you persevere through difficult times and keep your self-belief and really just have the courage to put the dream above the fear of failure."
Tensions on Sheffield estates like Page Hall have been highly publicised, aggravated by the friction created by the large influx of eastern Europeans into South Yorkshire.
Both long-established Asian communities and the native white population have clashed with Roma residents, and simmering problems between the groups have threatened to get out of control.
For community police officers like Craig Butcher, it is partly about boosting young people's confidence and preventing them from always seeing the police as their enemy.
One young boy who he has taken under his wing is constantly in trouble both at home and at school.
But Mr Butcher continues to believe he has many positive points, and a good mind, if only he can get him to believe it. At the moment a signed photo of Webb is the carrot he's dangling to get the boy's co-operation.
Success is hard to judge. But for at least one boy, Eritrean-born Neff, it's clear there are now opportunities available he might never have had.
He, too, had been labelled a troublemaker; but since becoming involved in the football project, the world has changed: he has been spotted by Sheffield United, and may be offered a trial.
Webb believes the scheme encourages respect both on and off the pitch: "Quite often the only contact these youngsters have had with the police is when there are reports of anti-social behaviour or friction on the streets. With the football we hopefully break down those barriers - the uniform is stripped away and positive relationships are fostered."
"Of all the things that we do to engage kids, it's football that seems to most interest and unite them - whatever their background and whatever part of the world they come from," he says.
For the next month, Webb's face, and whistle, will be beamed into the homes of fans across the globe. But he could be having an even deeper impact on the muddy playing-fields of South Yorkshire.