Madeleine McCann's parents say search reinforces 'hope'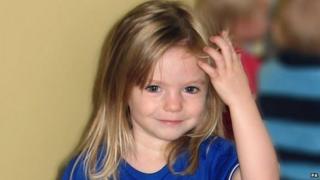 The parents of missing Madeleine McCann say the fact that recent searches found no trace of their daughter reinforces their belief she could still be alive.
Kate and Gerry McCann said they were "very pleased" at the searches over the last 10 days in Praia da Luz, Portugal.
Scotland Yard said there was still a "substantial amount of work" still to do in the investigation after three areas of land were searched.
Madeleine was three when she went missing in the Algarve resort in 2007.
Scotland Yard has said the searches, carried out with Portuguese officers and covering approximately 60,000 square metres, were the "first phase of this major investigation".
In a statement released through their spokesman, Clarence Mitchell, Mr and Mrs McCann said: "We are very pleased that significant activity has taken place in Praia da Luz over the last 10 days with police officers and support teams from the UK working closely with the Policia Judiciaria and the Guarda Nacional Republicana.
"We are further encouraged that despite the intensive searches, no trace of Madeleine has been found and this reinforces our belief that she could still be alive.
"As parents of a missing child, we have always wanted all reasonable lines of inquiry to be followed and it is gratifying to know that a substantial amount of work will take place over the coming months with the close co-operation of the British and Portuguese authorities.
"We would like to thank all those involved for their efforts and the members of the public who have come forward with information."
British officers are believed to be flying back to the UK on Thursday, but some local residents have criticised the searches.
Waiter Fernando Pereira said the timing of the searches, at the start of the tourist season was a "nuisance".
He added: "Everyone's opinion here - and even the British people who live here - is that it's a bit too much now. The British police should just go home."
A statement from Scotland Yard on Wednesday said "more activity has been agreed" with the Portuguese police, and that this was expected to start shortly.
Police sources have previously revealed that after the land searches have been completed, Portuguese police are due to question "several suspects", who are described as "of interest" in the case.
On Wednesday police could be seen searching two other sites near Praia da Luz with sniffer dogs.
But the main focus of the land searches was on the first 15-acre site that police spent a week combing for evidence.
Scotland Yard said overall "41 ground anomalies" had been identified by both aerial surveys and ground analysis, which were then fully investigated.
As police prepared to search the second two areas, graffiti slurring the McCann family and describing British police as "stupid" was scrawled on a nearby wall overnight.
A spokesman for Mr and Mrs McCann, from Rothley, Leicestershire, said they declined to comment on the graffiti, which was written in large red letters in Portuguese.