News of the World trial: Evidence in documents
24 June 2014

From the section

UK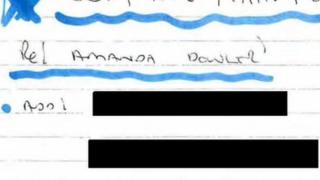 The trial of Rebekah Brooks, Andy Coulson and others included hundreds of documents explaining how hacking existed at the heart of the News of the World.
Private investigator Glenn Mulcaire, former news editors Greg Miskiw and James Weatherup and former reporters Dan Evans and Neville Thurlbeck had admitted being part of a conspiracy to intercept voicemails.
Andy Coulson has been convicted of the same charge - while former editor Rebekah Brooks and managing editor Stuart Kuttner were cleared.
Here is a selection of the key documents at the heart of the case..
Private investigator's contract
Glenn Mulcaire's role was to uncover private information that the reporters couldn't. He first worked for the News of the World in the 1990s.
His final contract in July 2005, made out in his company name Nine Consultancy, was for £104,000 a year.
The contract, which ran to seven paragraphs, said that Mulcaire will "undertake all research and information assignments requested by the company".
He was arrested in August 2006, along with Clive Goodman, following an investigation into royal phone hacks.
Police found that Mulcaire had kept thousands of pages of notes and other evidence relating to his activities.
His whiteboards set out some of his strategies and targets. One whiteboard sets out his thoughts on networking - including naming Rebekah Wade (as she then was) and news editor Greg Miskiw.
Mrs Brooks denied ever hearing of Glenn Mulcaire before the scandal broke. She was acquitted of all charges by the jury.
The whiteboard also includes a reference to "operation pagat" meaning the Metropolitan Police's review of the death of Diana, Princess of Wales, Operation Paget.
Mulcaire's working day would start when he was "tasked" by a journalist at the newspaper, whose name would be written in the top left hand corner of a note of what he was able to find out.
'Do his phone'
During Andy Coulson's period in charge, the newspaper sometimes used hacking to try to work out what the competition were up to.
When the newspaper was chasing a story relating to Calum Best, the son of footballer George, editor Andy Coulson was worried the reality TV personality was talking to a rival newspaper.
He sent an email to a colleague telling him to target Best's voicemail. It read simply: "Do his phone".
In 2004, Glenn Mulcaire was tasked to target people around the then Home Secretary David Blunkett because of speculation that he was having an affair with a married woman.
Mulcaire targeted the phone belonging to the woman, Kimberly Quinn, and retrieved hundreds of voicemails, including messages left by David Blunkett.
Andy Coulson decided to confront Mr Blunkett to force him to admit to the relationship - hacking was being used as leverage to stand up the story that it could not otherwise uncover.
The News of the World published the story about the relationship - but didn't tell readers that it was the product of a phone hack. During the trial, Andy Coulson admitted that the reporter, Neville Thurlbeck, had played him a hacked Blunkett voicemail.
The former editor told the jury that he had told the reporter to stop what he was doing but didn't inquire further. Thurlbeck has admitted conspiracy to intercept voicemails with Andy Coulson and others.