Air traffic control strike disrupts European flights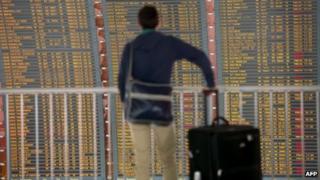 British passengers are being disrupted by an air traffic controllers' strike in France that has led to flight cancellations.
The first day of the industrial action, in a protest against budget cuts, has seen delays at major airports.
Services operated by British Airways, Ryanair, Easyjet and Flybe were among those affected.
Air traffic management firm Eurocontrol said there would be 14,000 hours of delays during the six-day strike.
Ryanair said it had been forced to cancel "up to 220" flights on Tuesday, including some services to and from London Stansted, Liverpool, Edinburgh, Dublin and Bristol airports.
'Regrettable'
Paul Clifton, BBC South transport correspondent, said a similar walkout last year had led to the cancellation of about 1,800 flights a day across Europe, including many services to and from the UK.
There were due to be 350 direct flights between the UK and France during the period of the strike, he added.
Passengers due to fly have been urged to check the status of their flight with their airlines.
In a statement at 18:00 BST, Ryanair said: "Air traffic control delays of up to six hours are now being allocated to Ryanair flights operating to/from France, and also flying over France."
Ryanair said it expected the delays to "continue through the evening", and said French air traffic controllers had warned delays would be "materially worse" on Wednesday.
The airline has cancelled 15% of its flights on Wednesday, with the move mainly affecting travel to and from France and Spain.
It said all affected customers had been contacted by email and SMS.
---
At the scene - Newsnight's Jim Reed at Gatwick Airport
As I write, we've been stuck on a Monarch airlines plane sitting on the tarmac for two and a half hours at Gatwick. We've been told we may have a takeoff slot in another hour's time.
Because of the congestion we've been told ground staff are busy and there's no way steps can be brought up to take the passengers who want to leave off the plane.
It's a Monarch airlines flight to Malaga in Southern Spain and is about 80% full. Most passengers look like holidaymakers and a fair number have small babies with them.
Two and a half hours after we got on board, it feels more like resignation than anger. Most people are being very British about it.
---
Gatwick Airport said it was experiencing "some delays and a small number of cancellations to flights".
'Congested'
However its largest airline Easyjet warned many flights departing from the airport could take longer than usual and be subject to delays due to being diverted around French airspace.
Easyjet described the strike as unnecessary, saying it could cause "considerable disruption and cancellations for passengers and airlines" across Europe.
A spokesperson said earlier that 28 flights on Tuesday to or from airports in France had been cancelled.
"None of these cancellations have affected UK flights although we are advising all passengers travelling today to check Flight Tracker and to expect delays as air space is congested," Easyjet added.
'Minimise disruption'
Monarch said the level of disruption caused by the strike was "higher than anticipated and customers can expect significant delays this week".
A message on the FlyBe website said the airline would have to cancel a number of flights during the strike, as French aviation authorities had requested it reduce its flying programme.
Four British Airways flights to French airports were cancelled.
Heathrow said there was "potential for some disruption" in the coming days and advised passengers to check with airlines before travelling.