Hundreds apply for fast-track police superintendents scheme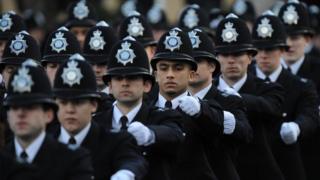 A scheme to fast-track professionals to become police superintendents, without the usual progression through the ranks has attracted almost 900 applicants, the College of Policing has said.
A total of 888 applications were made for 19 posts in seven police forces taking part in the initiative, it said.
Policing minister Damian Green said applicants had come from a "broad range of professions".
The move - announced in March - aims to make the police more open and diverse.
The College of Policing, the professional body for policing, previously announced the changes to recruitment schemes to bring in "highly talented leaders" from the private, public and charity sectors.
The initiative will see successful candidates receive training over 18 months and given coaching and mentoring before entering forces as superintendents.
'Extremely rewarding'
The college says 595 people applied for between five and 10 positions at the Met Police, 83 were for three posts at Avon and Somerset Police and 67 for two jobs in North Yorkshire.
Some 47 applications were made in West Yorkshire, 40 in Sussex, 38 in the City of London and 18 were made to British Transport Police - where each force is recruiting one superintendent.
The college said 21% of the applications were from black and minority ethnic (BME) backgrounds and 28% were women.
Applicants are due to be assessed in July.
Chief Superintendent Nicola Dale, who is leading the initiative, said the scheme had received "strong interest".
She said applications had come from people working in a range of fields "from the military and education through to managing directors of charities and people working in the financial sector".
"This is an interesting, challenging and extremely rewarding role and we will put the best of these applicants through their paces at the College of Policing national assessment centre in late July," she said.
Mr Green said the police needed to attract "the best and brightest".
"I am very pleased that the superintendents scheme has received such a high volume of applications, with an encouraging number from BME backgrounds as well as a broad range of professions.
"We are committed to opening up policing culture, and schemes such as this are attracting the candidates which will enable that to happen."