Poverty figures: Number of poor falls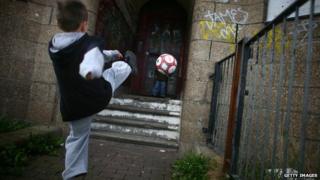 The number of people in the UK living in poverty fell by 100,000 in the past year to 9.7 million, according to official figures.
The data suggests the percentage of those in poverty is at its lowest level since the 1980s.
Poverty is defined in this context as when households have an income before housing costs below 60% of the median.
But while the numbers fell in the UK overall, they rose in Scotland by 110,000 from the year before.
Separate figures released by the Scottish government, showed 820,000 people in the country - 16% of the population - were living in poverty in 2012-13.
Scottish ministers said the figures underlined the need for independence.
'Financially stranded'
And while the UK's Work and Pensions Secretary Iain Duncan Smith insisted the figures supported the government's objective of restoring a strong economy, a string of charities said not enough was being done.
Barnardo's said the poorest families had been left "financially stranded" by measures that had cut "lifeline benefits", which were partly due to delays with the new Universal Credit.
Chief executive Javed Khan said the government needed to act urgently to boost the poorest families' incomes.
"Measures should include restoring the link between benefits and inflation, and ensuring that low paid families can keep more of their earnings when Universal Credit is introduced," he said.
Oxfam chief executive Mark Goldring urged politicians of all parties to form "bolder, long-term policies" to tackle the "unacceptable" poverty levels, while the Joseph Rowntree Foundation called for a comprehensive strategy to address the issues of low pay, the high cost of household essentials, and the tax and benefits system.
Its chief executive Julia Unwin warned that research by the Institute for Fiscal Studies forecasts that 2.5 million more people could be in poverty by 2020 unless a "joined-up coordinated approach" is taken.
The Gingerbread campaign group said child poverty for households with a single parent in full-time work had risen by 5% to 22% in 2012-13.
In the UK as a whole, median incomes - defined as the level with the same number of people above it as below - stayed broadly the same between 2011-12 and 2012-13. For a couple with no children, for example, it rose £2 to £440 a week.
The weekly poverty threshold - or 60% of the median income before deducting housing costs - in 2012-13 was £264 a week for a couple with no children, £177 a week for a single person with no children, £404 a week for a couple with two children and £317 a week for a single person with two children.
Housing costs are made up of "rent (gross of housing benefit); water rates, community water charges and council water charges; mortgage interest payments (net of tax relief); structural insurance premiums (for owner occupiers); and ground rent and service charges".
Mr Duncan Smith said the government had protected the "most vulnerable" families.
'Child poverty down'
"Today's figures underline the need to stick to the government's long-term economic plan of restoring a strong economy that creates jobs, and a tax and welfare system that helps people into work and makes work pay," he said.
The work and pensions secretary added that there were 300,000 fewer children living in poverty than in 2010.
Meanwhile, with a referendum on Scottish independence three months away, supporters of the Yes campaign have said the figures on increasing poverty in the country bolster their case.
BBC's Scotland correspondent James Cook said those in favour of independence think the figures highlight a need for Scotland to handle its own affairs.
But supporters of the union think a UK-wide safety net provides the best support for the most vulnerable in society, he said.