Detective accused of misconduct over sex offence inquiries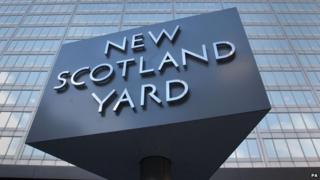 A detective has been charged with misconduct in public office over allegations relating to the way he handled rape and sexual assault cases.
Carl Ryan faces six counts relating to a two-year period when he worked at Scotland Yard's Sapphire unit, which deals with serious sexual offences.
He is accused of signing witness statements himself and falsifying entries on the crime report system.
Mr Ryan is due to appear at Westminster Magistrates' Court on 18 July.
'Prospect of conviction'
The Crown Prosecution Service (CPS) authorised the Independent Police Complaints Commission (IPCC) to charge Mr Ryan after an investigation into his behaviour was carried out by the police watchdog.
Sally Walsh, a senior lawyer with the Crown Prosecution Service's special crime division said: "It is alleged that between 2010 and 2012, Mr Ryan, who at the time was an officer in the Sapphire unit dealing with rape and sexual assault cases, failed to properly advance the forensic side of investigations on a number of occasions.
"It is also alleged that Mr Ryan signed the statements of witnesses himself and incorrectly informed a suspect of a decision to prosecute when no such decision had been made."
'Public expectation'
The IPCC said the charges relate to a period when Mr Ryan served as a detective constable on the Met's Sapphire command in Islington, north London, and was "leading a number of investigations into allegations of rape and serious sexual offences".
In a statement, it said of the decision to charge Mr Ryan: "It follows an independent investigation by the IPCC which included examining concerns about how he had conducted crime investigations and allegations that he had falsified entries on the crime report system in relation to the submission of exhibits and advice from the CPS."
Concerns with Mr Ryan's work were initially raised by one of his supervisors in May 2012. It is not known if he is still employed by the Metropolitan Police.