Parole hearings 'to treble' after 'fairness' ruling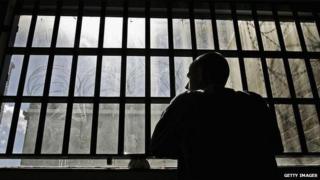 The Parole Board says it will have to hold about 11,500 more hearings every year for prisoners who want to be released - even though there is no prospect of them being let out.
It comes after the Supreme Court said there must be more emphasis in England and Wales on "fairness" to inmates.
The Parole Board says October's ruling will treble the number of hearings, raising its costs by at least £10m.
The government says it has made provisions for the increased workload.
The Parole Board deals with some of the most serious offenders including those serving life and indeterminate sentences.
Paper decisions
Writing in the Parole Board's annual report, chief executive Claire Bassett said: "The judgement was clear that the Supreme Court believed that, for hearings to be fair, oral hearings should be available in considerably wider circumstances.
"Prior to the Supreme Court decision, the domestic courts had agreed... that a relevant factor in deciding whether or not to hold an oral hearing was whether such a hearing would be likely to make a significant difference to the final outcome. This is no longer the case."
It is estimated the number of Parole Board hearings will go up from 4,500 to 16,000 each year.
Parole Board chairman Sir David Calvert-Smith said the implications of the Supreme Court decision were that the board would have to hold hearings in cases which had "previously been dealt with on paper".
He added: "The consequences... are not confined of course to the Parole Board but have consequences for all those who attend hearings, prison staff, probation staff and legal representatives and the funding of all three."
---
Analysis
By Danny Shaw, BBC home affairs correspondent
The Parole Board rarely makes headlines. Its members go about their work quietly. But what they do is vitally important - assessing whether convicted killers, rapists and robbers should be transferred to open prisons and determining when it's safe to let them out.
These are sometimes finely balanced decisions that require anxious thought and consideration. Overloading the organisation with hearings in cases where the outcome is already clear could be counter-productive.
It runs the risk of diluting the quality of decisions and adding to the pressure on the prison system as inmates have to wait longer for their cases to be resolved.
With the backlog now growing there are signs this is already happening.
---
Justice minister Lord Faulks said the government had been working with the Parole Board "to ensure they have the capacity to conduct any extra hearings required following the Supreme Court decision".
He added: "The board has been given an additional £3m funding to enable them to handle any increased workload, and is also introducing a number of changes to improve their capacity.
"Together with the board we will look at further options to help them deliver an effective service in this and future years."
'Not natural justice'
It comes as a report from the Howard League for Penal Reform said the total number of prison officers had fallen by 30% over the past three years, to 19,325.
It suggested suicides, assaults and riots would increase unless action was taken to increase officer numbers and reduce prisoner numbers.
Frances Crook, from the Howard League for Penal Reform, disagrees with the parole board's assessment.
She told the BBC: "I'm slightly surprised that the Parole Board is saying that the hearings will not make any difference because that's not natural justice.
"It will cost more to have more hearings, that's right. But if people are moved through the system safely and more quickly then it will save money as well, so the costs should be offset."