Police Federation backs new ethics code for officers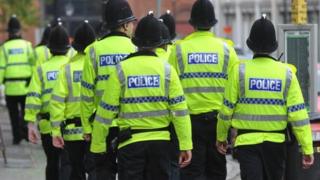 Police officers have backed a new code of ethics that could see them punished for being rude to the public.
The Police Federation, which represents rank-and-file officers, said it fully supported the code, which also includes warnings about the use of drugs or alcohol, and having sex while on duty.
The move, for officers in England and Wales, comes as controversies such as Plebgate and alleged corruption are said to have shaken public confidence.
It will go before Parliament next week.
The code is based around nine core principles, including accountability, fairness and honesty.
Unlike the traditional police oath to act "without fear or favour" it applies to both officers and civilian staff, a total of around 220,000 people.
They face disciplinary action and possible dismissal for breaching the code, which also urges officers to speak out about rule-breaking colleagues of all ranks.
In a statement, the Police Federation said: "We fully support the code of ethics that further enhances the standards of professional behaviour, and sets out clearly exactly what principles and standards that the public and colleagues are entitled to expect from all within the policing profession."
The new guidelines have been drafted by the College of Policing to help improve the reputation of police services.
It follows a stark warning issued by Home Secretary Theresa May earlier this year, in which she said the police must either change or have reform forced upon them.
Mrs May, who is understood to support the code, warned the Police Federation that it had to change "from top to bottom".
'Decent and conscientious'
She said at the time that it was not enough to "mouth platitudes about a few bad apples" - following incidents such as police handling of the Plebgate affair and allegations of a Hillsborough cover-up.
While public confidence in the police is thought to have been undermined, research by the College of Policing suggests that more than two-thirds of people would not want to have to make the kind of tough decisions faced by officers.
Meanwhile, Conservative James Clappison, who sits on the Home Affairs select committee, said while the majority of police are polite to the public, it would be useful to set out guidelines.
"I think this will be good for the police themselves and for the public and give them even greater confidence in them. The overwhelming majority of police are decent and conscientious," he told the Daily Telegraph.
"If officers breach the code of ethics a range of sanctions are available. Officers may simply be given a verbal warning or moved to another team, but more significant failures will require formal investigation and may result in an individual losing their job."