Congestion biggest concern for drivers, says AA survey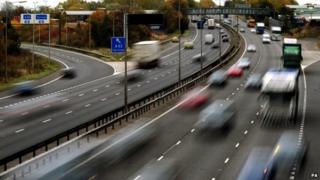 Motorists are more worried about congestion than having a crash or breaking down, a survey has suggested.
The AA/Populus poll of 23,000 drivers found a quarter said heavy traffic was their main concern on journeys of more than 200 miles.
The second most common fear on long trips was having an accident, with 17% of respondents worrying about this.
A fifth of drivers aged 18-24 said breaking down was their biggest worry, compared to 13% of all drivers.
Young drivers were also the most concerned about getting lost on long journeys with 13% worrying about this - more than three times as likely as drivers aged over 65 to have this fear (4%).
'Trio of nightmares'
Drivers in eastern England (28%) were more than twice as likely as those in Northern Ireland (12%) to worry about congestion.
Bad weather was more of a concern for drivers in Scotland than anywhere else in the UK with 10% concerned about it north of the border.
AA president Edmund King said: "At this time of year many people will be making long car journeys for day trips, holidays and visiting friends and relatives.
"The last thing anyone wants is for something to go amiss on that journey and end up ruining their summer plans.
"Congestion, accidents and breaking down are the top trio of nightmares drivers fear."
He added: "Young drivers in particular were most concerned about breaking down - probably due to the fact they are more likely to be driving cheaper cars and have less disposable income to fix any problems that arise from a breakdown."