Chicken factory probe ordered by health secretary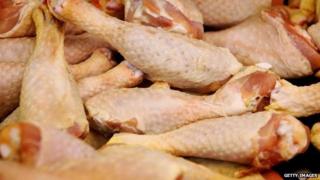 An investigation into allegations of hygiene failings at poultry processing factories has been ordered by Health Secretary Jeremy Hunt.
Facilities belonging to 2 Sisters Food Group at Llangefni, Anglesey, and in Scunthorpe, Lincolnshire, will be checked within 24 hours.
It follows reports in the Guardian including claims that carcasses which came into contact with workers' boots were returned to the production line.
The company denied the claims.
A spokeswoman for Mr Hunt said a Food Standards Agency (FSA) review of the evidence found "no risk to public health".
Supermarket supplies
"We want the public to feel reassured that the food they buy is safe. The Food Standards Agency has already reviewed the Guardian's evidence and found no risk to public health," said the spokeswoman.
"In addition, the FSA has agreed, at the request of the secretary of state for health, to conduct a full safety audit. They will start in the next 24 hours and report back shortly."
Another company named in the Guardian's investigation, Faccenda Foods, said claims that it ignored biosecurity rules were not true.
Three of the UK's biggest supermarkets - Tesco, Sainsbury's and Marks and Spencer - have launched investigations into their chicken supplies following the reports.
FSA figures suggest that 65% of raw shop-bought chicken is contaminated with campylobacter bacteria which is the most common cause of food poisoning, with symptoms including diarrhoea and stomach cramps.
Cooking chicken properly kills the germs, but they still cause more than 300,000 food poisoning cases and 15,000 hospitalisations a year in England and Wales.