Spanish ambassador summoned to UK over Gibraltar incursion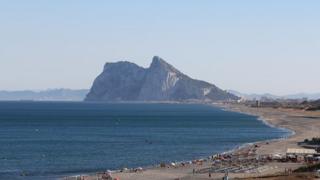 The Foreign Office has summoned the Spanish ambassador over allegations of "provocative" activities by a Spanish naval vessel in waters off Gibraltar.
Europe Minister David Lidington said the ship had sought to redirect two other vessels away from the port of Gibraltar - wrongly claiming they were in Spanish territorial waters.
He said he was "extremely concerned" by the actions of the Spanish ship.
Last month MPs said the UK should set a "more robust" response to incursions.
Mr Lidington said he had summoned Spanish Ambassador Federico Trillo to the UK because the actions of the vessel constituted "a breach of the UN Convention on the Law of the Sea".
'Under siege'
He said it represented a "cynical attempt by the Spanish government to disrupt Gibraltar's economy, in contravention of international law".
"I condemn this provocative activity and urge the Spanish government to ensure that it is not repeated," Mr Lidington said.
Spain has contested the UK's claim to Gibraltar - a British Overseas Territory - for centuries, but tensions have increased in recent months amid a row over fishing rights.
The Spanish government imposed strict controls at its border crossing last year after Gibraltar built an artificial reef in contested waters.
Gibraltar says the reef will encourage sea life, but Spain says it will damage its fishing industry.
There have been more than 600 Spanish incursions into British waters since the start of 2013, according to the Foreign Office.
Last month the Foreign Affairs Committee said Spanish behaviour in the long dispute over UK sovereignty was unacceptable.
The group of MPs warned ministers it was time to "get off the fence", with Gibraltarians now feeling they were "under siege".