MH17 crash: Tributes paid to Briton Robert Ayley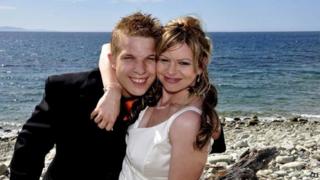 A father-of-two reportedly from Surrey and living in New Zealand was among passengers on board the downed Malaysia Airlines plane, his family has said.
The family of Robert Ayley, 28, said he "touched many lives", as they confirmed the Briton had been on flight MH17.
UK experts are on their way to Ukraine to assist with the inquiry into the crash, which killed 298 people, including 10 Britons, on Thursday.
The UK's Air Accidents Investigation Branch is also helping to investigate.
It is believed the aircraft was brought down after being hit by a surface-to-air missile fired from a rebel-held area in east Ukraine.
Among the British passengers believed to have died in the crash were football fans John Alder and Liam Sweeney, World Health Organization press officer Glenn Thomas and student Ben Pocock, who was travelling to Australia as part of his studies.
Meanwhile, a Newcastle-based charity, the Percy Hedley Foundation, has said it is caring for a disabled child whose mother, father and siblings were on the plane.
Relatives of Mr Ayley, who was reportedly from Guildford, said they were "desperately sad" to confirm he was on the plane.
"Rob was our everything," they said in a statement posted on Facebook.
"We adored him and there was no one else like him. He touched so many hearts and lives. We are grateful to forever have him in our hearts."
Mr Ayley's family said he had been on a trip to visit Rottweiler breeders in Europe.
They said he was "passionate" about life and his family.
"Rob will live forever in his family," they said.
'Held to account'
Downing Street said Prime Minister David Cameron and US President Barack Obama had agreed in a phone call that an independent investigation should get under way as soon as possible.
They also discussed potential new sanctions on Moscow, a No 10 spokesman said.
The government's Cobra emergency committee is also set to meet again on Saturday.
The latest figures released by Malaysia Airlines show the Boeing 777 was carrying 189 Dutch nationals, 27 Australians, 44 Malaysians (including 15 crew) and 10 Britons, as well as a number of other nationalities.
Among the British passengers believed to have died were:
Newcastle United fans John Alder and Liam Sweeney, who were travelling to New Zealand to watch the football team's pre-season tour of the country and described by the club as among their "most loyal supporters". Sunderland supporters have raised more than £6,000 to pay for a floral tribute to the pair
Glenn Thomas, 49, a press officer for the World Health Organization travelling to an international conference on Aids in Australia and who colleagues said would be "remembered for his ready laugh and his passion for public health"
Ben Pocock, a student at Loughborough University, who had been heading to Australia to study, and whose family were said to be "devastated" by his loss
Richard Mayne, a student at Leeds University, originally from Leicestershire, whose death attracted a wide range of tributes from his former school and university as well as Market Bosworth Rugby Club which he played for
And Cameron Dalziel, who was born in Zimbabwe, but was travelling on a British passport
Malaysia Airlines flight MH17 was flying from Amsterdam to Kuala Lumpur when it crashed between Krasni Luch in Luhansk region and Shakhtarsk in the neighbouring region of Donetsk.
Both Ukraine and pro-Russian rebels have accused each other of shooting down the jet.
The United Nations Security Council has called for a "full, thorough and independent international investigation".
An OSCE team of experts has said it is being prevented from reaching the wreckage by pro-Russian rebels.