RNLI warns of rise in coastal deaths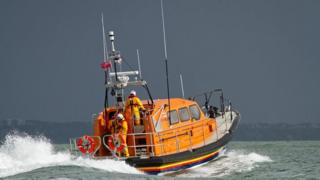 A total of 167 people lost their lives off the UK coastline last year - the highest number since 2010.
There were also 368 "near misses" - lives saved by lifeboat crews and lifeguards - in 2013, the RNLI said.
The charity is launching a drowning awareness campaign, called Respect the Water, to try to half the number of accidental coastal deaths by 2024.
The campaign is aimed particularly at adult men, who make up about two thirds of coastal deaths, the RNLI said.
Rip currents
Richard Spindler, of Weston-super-Mare RNLI, said swimming in a pool was "so much different" to the sea.
"I have seen the strongest swimmers get into all sorts of trouble once they get into the sea," he said.
Slips, trips and falls accounted for nearly a third of last year's fatalities, while alcohol was a factor in 17%, the RNLI said.
It warned that despite the recent warm weather, the sea could trigger cold water shock all year round. People should acclimatise gradually to the cold water, it said.
"While many would assume adrenaline sports and rough weather are the biggest causes of incidents, in fact it's casual, everyday use of the coast and sea which often results in fatalities," the charity added.
It urged swimmers to beware of rip currents, which trigger about two thirds of its call-outs.
Anyone caught in one should call for help and swim parallel to the shore until free from the current, the RNLI said.
The RNLI's data was taken from the National Water Safety Forum's Water Incident Database.