Chicken factories given all-clear in hygiene audits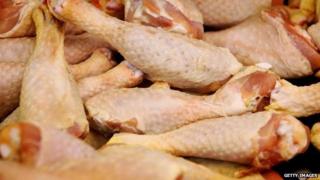 Two poultry factories alleged to have committed hygiene breaches have been rated as "good" and "satisfactory" by the Food Standards Agency (FSA).
Urgent audits were ordered to be carried out at two sites belonging to 2 Sisters Food Group after allegations were made by the Guardian newspaper.
The plants in Llangefni, Anglesey and Scunthorpe were subject to "detailed and rigorous" audits, the FSA said.
2 Sisters Food Group said it was "satisfied" with the findings.
The audits were carried out last Friday but the initial results have only just been made public.
'No risk'
The audits came after a series of allegations in the Guardian, including one that carcasses that had come into contact with workers' boots had been returned to the production line.
The FSA said: "Initial results from these two detailed and rigorous audits showed the plant at Scunthorpe as 'good' and the plant at Llangefni as 'generally satisfactory'.
"The FSA will publish the completed audits in due course."
A spokesman for Health Secretary Jeremy Hunt, who ordered the audits, said last week that an FSA review of the Guardian's evidence found there was "no risk to public health".
2 Sisters Food Group denied the Guardian's allegations, calling them "untrue, misleading and inaccurate".
Biosecurity
Chief executive Ranjit Singh said: "We welcomed these audits and we are pleased the FSA has worked with typical rigour and thoroughness.
"We are satisfied with their findings which show that no legislative compliance issues were raised.
"However, we must not be complacent. We operate our business in an environment of continual improvement and we will be carrying on with that to ensure we produce first-class British products for all of our customers."
Another company named in the Guardian's investigation, Faccenda Foods, said claims that it ignored biosecurity rules were not true.
Three of the UK's biggest supermarkets - Tesco, Sainsbury's and Marks and Spencer - launched investigations into their chicken supply chains following the reports.