Tax workers' strike action continues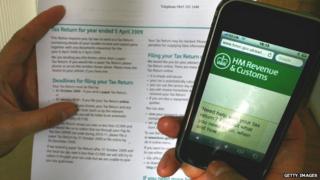 Tax workers are continuing to strike in an ongoing dispute over job losses and office closures.
Public and Commercial Services union (PCS) members are carrying out a three-day walkout which began on Wednesday.
The union is campaigning against the closure of enquiry centres and the loss of 2,000 jobs.
HM Revenue and Customs (HMRC) said it was disappointed by the timing of the strike, which coincides with the tax credits renewals deadline.
The PCS claims years of job cuts have led to backlogs and delays and the use of private debt collectors.
Strike action is being taken in Scotland and the Midlands on Thursday, with London, the south-east, south-west and east of England, Yorkshire and Humberside and Northern Ireland being affected on Friday.
Strikes were held across Wales and north-west England on Wednesday. This latest round of action comes after a series of rolling industrial action held last month.
The strikes coincide with 31 July, the deadline for tax credit renewals and also the date by which self-employed people have to make their second tax payment, if they are paying in two instalments.
The PCS says 90% of its 680 members in Leicester were on strike on Thursday.
In Glasgow, 96% of its 860 members and 94% of 1,200 members in Cumbernauld went on strike, as were 93% of 2,100 across two offices in East Kilbride, the union says.
As a result of the industrial action, HMRC is now giving people extra days - until 6 August - to renew their tax credits claim.
The HMRC expects those making tax payments to be largely unaffected.
PCS general secretary Mark Serwotka said: "HMRC plays an essential role in our economy and our society, collecting the taxes that fund the other public services we all rely on. But it is being systematically undermined by unnecessary and politically-motivated cuts.
"These strikes demonstrate we are serious about stopping these damaging cuts and making a positive case for proper investment in this crucial department."
An HMRC spokesman said: "We are very disappointed by the timing of the decision by PCS to call a strike to coincide with the tax credits renewals deadline.
"It is a great shame that the union is asking HMRC staff to strike, deliberately putting the livelihoods of hard working families at risk to further an industrial dispute.
"We will do everything we can to minimise the impact on tax credits claimants, and we urge them to renew online, to avoid the long delays that the strike will cause on the phone."