UK probes Israeli soldier nationality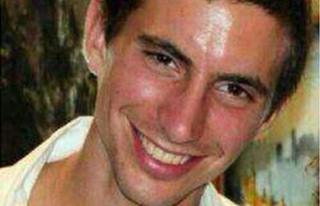 The UK Foreign Office is "looking into" reports an Israeli soldier missing in Gaza has dual UK-Israeli nationality.
The Israeli military said it suspected the soldier - named as 2nd Lieutenant Hadar Goldin, 23 - had been captured.
UK Foreign Secretary Philip Hammond said he had "no information" to suggest the soldier was British, but the Foreign Office was investigating.
Fighting broke out several hours into a planned 72-hour truce. Hamas has not spoken about the alleged capture.
Simha Goldin, father of the missing soldier, said: "We want to strengthen the IDF (Israel Defense Forces) and the state of Israel in its war against Hamas.
"We are confident that Israel will do everything to bring Hadar back home."
Israeli officials said 2nd Lt Goldin disappeared when troops were attacked while trying to destroy a suspected militant tunnel.
Two Israeli soldiers died in the incident where 2nd Lt Goldin was reportedly captured, in southern Gaza at 09:30 local time.
The Gaza health ministry said dozens of people were killed by Israeli shelling in the area shortly after the incident.
The IDF tweeted that it suspected 2nd Lt Goldin, from Kfar Saba, had been kidnapped and "dragged" into a tunnel by Hamas.
Ceasefire 'priority'
Mr Hammond said the reported capture of 2nd Lt Goldin was "very serious".
Of the suggestion he is a UK national, Mr Hammond said: "We have no information to support those reports. We have heard them, we are looking into it but we have no information to suggest that he is a British citizen."
He said it was "extremely depressing" that the planned truce had collapsed soon after coming into effect, and the capture of a soldier would make it "all the more difficult to re-establish a ceasefire".
Asked if Israel had acted "disproportionately" in the conflict, Mr Hammond said "all parties" should act proportionately but issues could only be discussed once a ceasefire was in pla
"Ending the suffering of the people of Gaza is the number one priority," he said, adding that Britain was trying to influence both sides "behind the scenes" to get a ceasefire.
Labour leader Ed Miliband said the "terrible carnage" in Gaza must stop and the UK government should put "maximum pressure on both sides for an unconditional ceasefire".
'Very dangerous move'
He said the Palestinian people were "caught in the middle" between Hamas and the IDF.
Lord Levy, Tony Blair's former Middle East envoy, said Israelis, Palestinians and the international community must "never give up" on trying to stop the fighting - "however deep the anger is on both sides".
He said Palestinian and Israeli societies were both "traumatised", and they needed hope and security rather than war, which would only "breed" hatred.
Israeli government spokesman Mark Regev said the capture of an IDF soldier was a "very dangerous move" which could lead to "escalation" of the conflict.
He said Hamas had "slammed the door" on a diplomatic solution.
Mr Regev said the IDF were respecting the truce, which came into effect at 08:00 local time, when the incident happened at about 09:30.
But Dr Husam Zomlot, of the Fatah Palestinian movement, said there was "never a ceasefire to start with".
"I think Israel has been engaged in a game of deceit all along this latest aggression," he said.
He accused Israel of "spin" and "blaming the victim", and said Israeli Prime Minister Benjamin Netanyahu did not want a "political end to this mayhem we are in".
'Intense' bombardments
About 1,500 Palestinians, mostly civilians, and more than 60 Israelis, mostly soldiers, have died in the latest conflict.
The ceasefire had been brokered by the US and UN to give civilians a reprieve from the violence, and had been seen as an unforeseen breakthrough after days of diplomatic deadlock.
A former UK defence minister has accused Israel of "brutal" attacks on Gaza and said the UK should "send a message" to Israel that its actions were "becoming very difficult to justify".
He said Israel had an "absolute right" to defend itself from Hamas rocket attacks but it had to be "much more careful".
"We have seen very intense military bombardments of residential areas of Gaza, using non-precision munitions," he said.